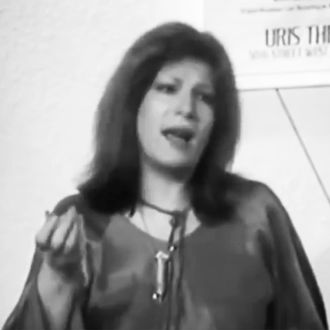 Playwright Myrna Lamb speaking in 1979.
Photo: YouTube
Playwright Myrna Lamb, known for her provocative second-wave feminist plays, died on September 15 in Point Pleasant Beach, NJ, of congestive heart disease. She was 87.
Lamb was born in 1930 in Newark and wrote her first play at age eight. Growing up, her work was appreciated by her teachers, but her father resisted the idea of college; instead, at 18, Lamb married Marvin Epstein, whom she met at a family wedding.
Lamb continued to write as she raised two children, and got her first big break when she cold-called Anselma Dell'Olio, director of the New Feminist Theater. Dell'Olio appreciated her work, and soon after, Lamb was the group's go-to writer.
Lamb first gained mainstream notoriety in 1970 for writing the book and lyrics for Mod Donna with Susan Hulsman Bingham, which has been described as "the first women's liberation musical." According to the New York Times, her writing was embraced by feminists who enjoyed seeing the movement's messages on display, yet her work was widely panned by male theater critics.
In a 1976 interview with the Times, Lamb admitted the criticism was frustrating, but she wasn't afraid to fire back: "They don't say, 'I don't agree with what you've done or how you've done it,'" she said. "They say, 'You can't write.'"
Lamb's husband died in 1985, and she spent her later years living with family in New Jersey. She is survived by two daughters and two grandchildren.