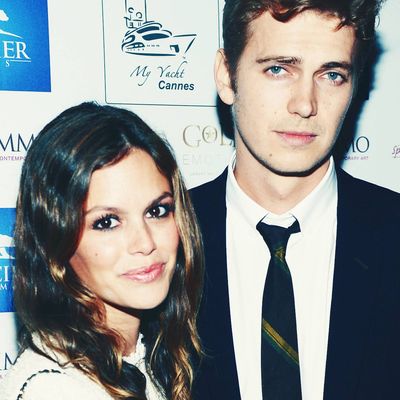 Rachel Bilson and Hayden Christensen.
Photo: Michael Buckner/Getty Images
Rachel Bilson, known to many as The O.C.'s Summer Roberts, and Hayden Christensen, known to others as the Star Wars guy, have broken up, according to Us Weekly. The report hinges on a single source, who claims, "She's full-time back in L.A. He's in Toronto. They've been on the outs for a couple of months. They are completely, officially done." Oh dear.
Bilson and Christensen met in 2007 on the set of Jumper (who remembers?) and got engaged shortly thereafter. They reportedly broke up for a few months in 2010, but they reconciled and had a daughter together in 2014. They named her after a Disney character.
For those hoping Us Weekly has it wrong, there is some hope: Bilson and Christensen were spotted getting ice cream together in Los Angeles at the end of August. Bilson also told Lapalme Magazine (who knows?) in the beginning of August that she was considering having another child, and that meeting Christensen ten years ago was "the most precious time."
We've reached out to a rep for Bilson and will update if we hear back.