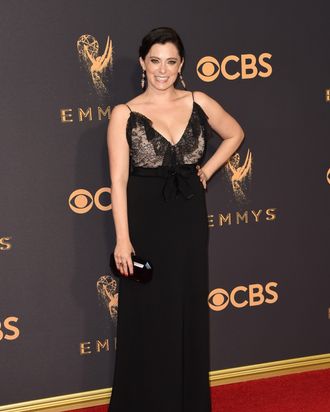 Rachel Bloom.
Photo: J. Merritt/Getty Images
In perhaps the most relatable Emmys red-carpet-fashion moment of all time, Crazy Ex-Girlfriend actress Rachel Bloom told Giuliana Rancic on Sunday night that she bought her black lace Gucci dress on the RealReal, a popular online consignment shop.
"I bought this dress because Gucci is not lending me a dress," she told Rancic. "It's hard to get places to lend me dresses because I'm not a size zero," she continued. "But I'm also at a place where I can afford it, so …"
This is not the first time Bloom purchased her own dress for an event. In August, she told People magazine that she'll spend up to $3,000 for a look, seeing that she makes $50,000 to $60,000 per episode. A quick search reveals that this particular Gucci dress retails for $3,500, so its resell price presumably fits her budget.
"And I can always resell it!" Bloom said of her red-carpet look. "Take a look for this dress on the RealReal tomorrow."