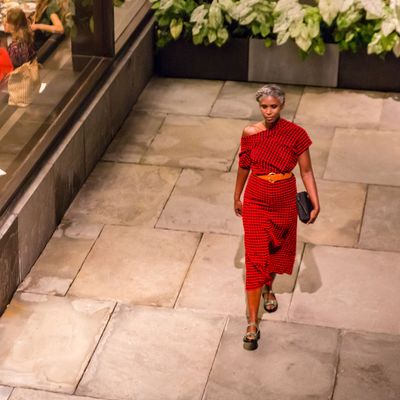 Photo: Benjamin Lozovsky/BFA.com
Twenty or 30 years ago, fashion shows were a fairly private affair, held in places like the Plaza Hotel or tents behind the Public Library, and attended mostly by those who worked in the business. I remember Sandra Bernhard once telling me that as a fledgling comic in L.A., she used to mine Women's Wear Daily and W for material — because it sounded like another world! Then fashion shows became very public. Public was Good: An outdoor show, or at least a livestream, theoretically confirmed that a general audience was interested, too. Now this trend has entered its baroque era, as designers try to one-up each other — lately, some efforts to bring fashion to the people, like Tommy Hilfiger's South Street carnival last year or the countless shows that have been held on the High Line, have felt oddly disengaged from the city, a sideshow without a midway.
All this makes me wonder if the best fashion right now might be private: something which isn't for wide public viewing or consumption, and which doesn't try to fight the fact that large numbers of New Yorkers are actually not watching. I was thinking this last night at the Met Breuer, where Rachel Comey held her spring 2018 show and dinner party at the Flora Bar, on the lower level. Before everyone sat down to snow crab and tuna tartare, the lighting designer Lindsey Adelman referred to Comey's "weirdo fashion"—that is, the crinkly, muted sack dress with a metallic striped shoulder strap that Adelman wore — and some of us laughed in recognition. Comey's clothes, confound many of our assumptions about what's pretty or dressy or arty. At the same time, they are hardly so weird that women can't instantly imagine wearing them. On her way to the museum, Adelman observed, a number of women remarked favorably about her dress.
Although anyone walking past the Breuer could have caught the model parade through the café windows, Comey's attention was entirely on her audience. She made an appearance before the show and sat with guests afterward. Many are friends or regulars at her dinners, like Bernhard, the sisters Alex Auder and Gaby Hoffmann, Justin Vivian Bond, Leanne Shapton and Thelma Golden. But Comey's ability to intimately engage with people is also expressed in her clothing. There's an ease and directness in an oversize, cinnamon-colored sweatshirt with a slim skirt in white silky fringe, or a boxy faded denim jacket worn over a gauzy pale-blue Victorian-inspired blouse and wide denim pants with red sandals. The combinations — those blown-out Victorian shirts, a long red-and-cream striped shirt/coat with comfy pants, an off-white painter's smock with a light blue tulle evening skirt — look self-confidently improvised.
Frankly, we don't get enough direction like this in the industry — you can call it "weirdo fashion," or just resistance to the pressure to make statements or be known to everyone. "I have a New York pride," Comey said, modestly, before the show, explaining in part what drew her to the iconic Breuer. Her grasp of individual personalities is also stronger than ever, and that was the question she really addressed in this lovely show — how to dress for one's own pleasure.