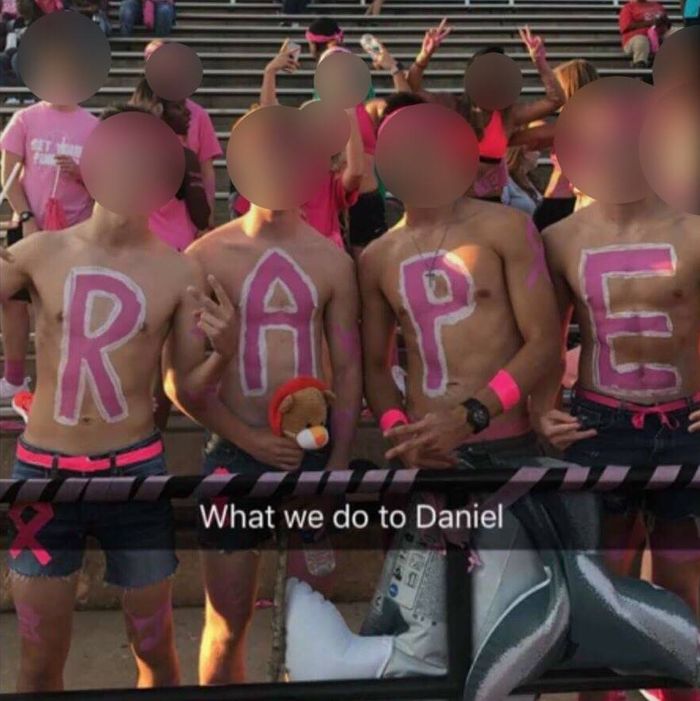 The post shared on Snapchat.
Photo: Anderson 5 Citizens for Quality Education/Facebook
On Friday, two South Carolina high schools, Westside and D.W. Daniel, played a football game against each other during Westside's annual Breast Cancer Awareness Night. It was also a Touchdown Against Cancer fundraiser to benefit St. Jude's Children's Hospital. And finally, it was the evening when four Westside students at the game decided to pose together, spelling out "RAPE" with the letters painted on their chests in the breast cancer awareness pink color.
Per CNN, who spoke to Kyle Newton, the director of external affairs for the school district, "the four students were originally part of a larger group that had spray-painted letters to spell out the words 'bump cancer' on their chests. The students then 'essentially started playing scrabble' and moved around to spell different words with those letters."
A photo was then shared on Snapchat, calling out their opponents in the caption. It gained more attention when a local group, Anderson 5 Citizens for Quality Education, shared it on Facebook, criticizing the teens.
The students have reportedly "been punished" as of Monday, though no further details have been released.