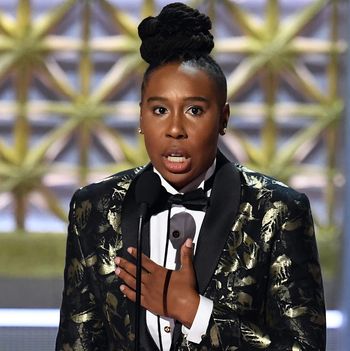 Lena Waithe.
Photo: Kevin Winter/Getty Images
On Sunday, Lena Waithe became the first black woman in history to win an Emmy for Comedy Writing. She and Aziz Ansari received a standing ovation as they accepted the award for Outstanding Writing in a Comedy Series for co-writing Master of None's "Thanksgiving" episode.
As Ansari stood to the side, Waithe gave a powerful acceptance speech in which she thanked the Master of None team and her "LGBQTIA family." Read the full transcript of her speech below, and watch it here.
Let me reclaim my time, give me a second. I gotta thank God or else I wouldn't be standing here. I wanna thank my mother for inspiring the story and allowing me to share it with the world — I love you, Ma. Thank you, Aziz, for pushing me to co-write this, bro. Now we're standing here. I love you forever. Thank you and Alan for creating a show like Master of None where we can tell stories like this. Thank you, Netflix and Universal, for creating a beautiful playground for us to play on, to shine. Ted and Cindy, we love you. Melina, you are magic; Angela, you are a legend; Kim, you are a force. Thank you for making this episode so special. To my girlfriend, I love you more than life itself, Alana. To my team, my chosen family, I love y'all.




And last, but certainly not least, my LGBQTIA family. I see each and every one of you. The things that make us different, those are our superpowers. Every day, when you walk out the door and put on your imaginary cape, and go out there and conquer the world, because the world would not be as beautiful as it is if we weren't in it. And for everybody out there that showed us so much love for this episode, thank you for embracing a little Indian boy from South Carolina and a little queer black girl from the South Side of Chicago. We appreciate it more than you could ever know.




Thank you, Academy, for this. We love y'all. God bless y'all.