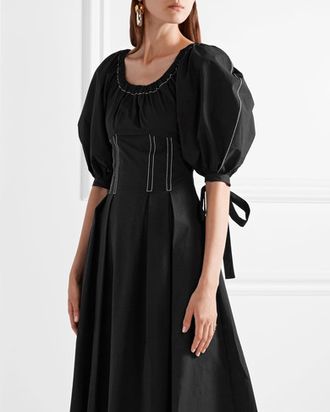 Last September, I saw a photo of Kate Foley in our New York Fashion Week street-style roundup. She had on a sunshine-yellow dress with giant, puffy sleeves, paired with low-top black Vans and a black-and-white J.W. Anderson bag. It wasn't exactly subtle, but the styling made it look easy and comfortable, especially since we were in the middle of a heat wave.
Months later, I was still thinking about that look. The dress, while intensely bright, was exactly the kind of shape I loved: below-the-knee and dramatic. Eventually I tracked it down, but I couldn't bring myself to buy it. By designer Rejina Pyo, it cost $941, making it tricky to justify (even at half off) when I never wear color.
Now, a year later, I discover the dress comes in black. The sleeves are still just as big, but instead of yellow-on-yellow stitching, the seams are outlined in white. The combination is familiar — I could easily imagine it in my closet next to my crazy ruffle pants, eccentric old-lady bag, and simple white tops. It makes me feel like myself, albeit kicked up a notch for Fashion Week. And yes, I'd probably wear it with sneakers too. You can never go wrong taking styling cues from a Golden Peacock type.
If you buy something through our links, New York may earn an affiliate commission.