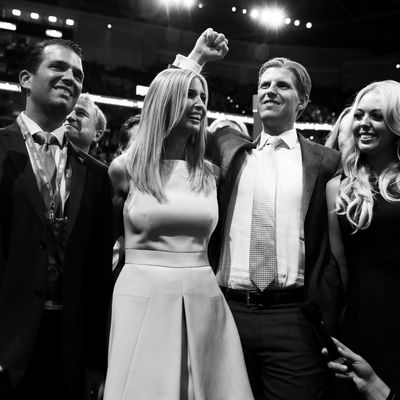 The Trumps.
Photo: Joe Raedle/Getty Images
Here is a story about the Trump family that – much like this picture of Donald Jr. and Eric holding a dead leopard, and this video of Donald Trump saying if Ivanka weren't his daughter, he might be dating her – makes you say: "What?! Actually… Yeah, that's on brand." According to unaired tapes from The Howard Stern Show, Ivanka and Donald Jr. once tried to "bump off" Tiffany from her inheritance money, Newsweek reports.
In a recording from December 2005, Stern allegedly asks Donald Trump if his older children get nervous every time he has a new child.
"I have a friend who is also like a very rich guy," Trump reportedly answered. "And he said how his children hate the new children coming along and everything else; I said, 'Yeah, because every time you have a child, it's 20 percent less to the people [Inaudible].'"
After a brief foray into the topic of "making love to Melania during the pregnancy," Stern guided the conversation back to the Trump siblings' rivalries, by asking if Ivanka and Donald Jr. were trying to "bump off a child."
"Is there any truth to that? [Inaudible] Tiffany?" Stern asked, after Trump attempted to dodge the question.
"Yes," Trump answered.
No word on whether blond Trump brother Eric also wanted to "bump off" Tiffany, or whether similar cartoon-villain conversations were had about young Barron's financial fate. Whatever happens, at least Tiffany will always have her jewelry line.