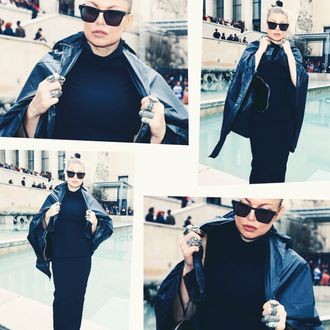 Fergie.
Photo: Getty Images
Rick Owens is laughing at you.
For the designer's spring 2018 show, which took place on Thursday at Paris Fashion Week, guests were given black branded ponchos like they were about to watch the killer whale Shamu do backflips. (Vetements charges nearly $2,000 for a similar garment.) And they did, in fact, get wet. Mist billowed from the huge Palais de Tokyo fountain as a woman's maniacal laughter played on loop. (Maybe Owens's wife, Michèle Lamy?) It looked like a giant, diabolical fashion Neti Pot.
Fergie sat front row, and she too donned a poncho, doing her best to make it look fashionable. As for the clothes, they were avant-garde gorpcore, with chunky Teva-like sandals, packs sewn into garments, and bands that resembled athletic sleeves.
The show certainly made a splash, and looked like it was worth the ruined blowout.