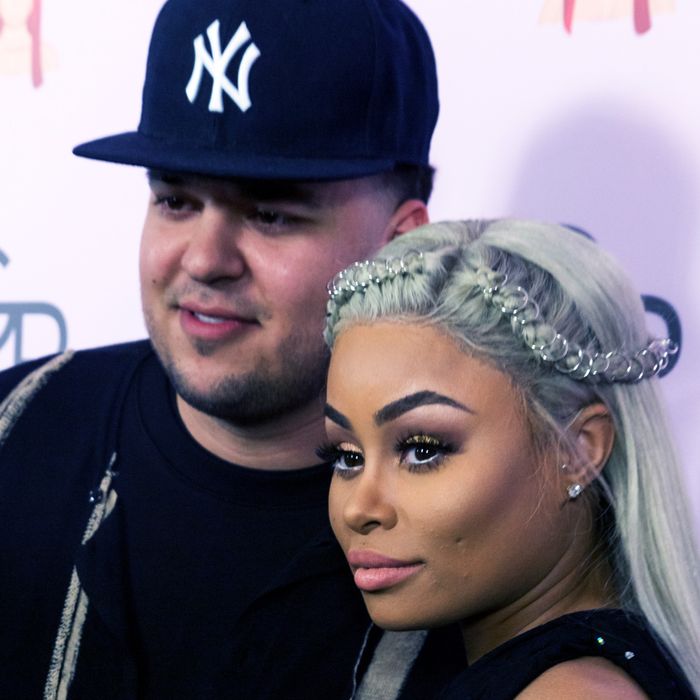 Rob Kardashian and Blac Chyna.
Photo: Greg Doherty/Getty Images
A new development in the never-ending saga of Rob Kardashian and Blac Chyna's split. According to TMZ, Rob Kardashian has filed a lawsuit against Chyna for alleged assault, battery, and vandalism.
In court documents, Rob reportedly claims that in December 2016 — the same month the couple broke off their engagement — Chyna tried to choke him with an iPhone cord before repeatedly punching him in the head and face. Rob also states Chyna did over $100,000 of damage to the home he was renting from his little sister Kylie Jenner, breaking down a door, damaging walls, and even smashing a decorative holiday gingerbread house.
This is the latest in what has been an extraordinarily messy breakup for the couple, who share a 10-month-old daughter, Dream. Back in July, Rob posted nude pictures of Chyna to his Snapchat without her consent. Less than a week later, Chyna filed for and was granted a temporary restraining order against her ex-fiancé, whom she claimed was abusive.
Neither Rob Kardashian nor Blac Chyna have commented publicly on Rob's suit.