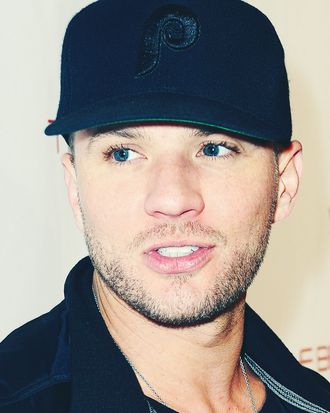 Ryan Phillippe.
Photo: Joshua Blanchard/Getty Images for Voices Against
On Monday, a 21-year-old model named Elsie Hewitt filed a $1 million lawsuit claiming that the actor Ryan Phillippe, 43, physically abused her during an argument on July 4. Hewitt says she dated Phillippe from April until the beginning of July, and that the relationship turned violent when they broke up. Phillippe has denied Hewitt's allegations, and "sources" connected to him have sought to discredit her in the tabloids. Here's everything we know about the case, so far.
Hewitt claims Phillippe kicked her, punched her, and threw her down the stairs in his home. In Hewitt's complaint, she says that she attended a party with Phillippe on the night of July 3. Phillippe left the party in anger, after "being ignored" by Hewitt, and she went to his home with a friend in the early morning hours of July 4 to collect her things. There, she says, Phillippe abused her and threw her down the stairs during an argument, screaming, "Get out of my fucking house, you crazy cunt." Hewitt suspects Phillippe was drunk. In her complaint, she says that during the course of their relationship she saw Phillippe "repeatedly abusing a panoply of legal and illegal drugs, including without limitation: cocaine, ecstasy, psychedelic mushrooms, and steroids."
Hewitt went to the hospital and filed a complaint with the LAPD after the incident. She was treated at Cedars-Sinai in Los Angeles for chest-wall pain, cuts, and bruises (photos of which can be seen here). She also filed a complaint with the LAPD, which granted her a temporary protective order against Phillippe. That expired on July 12. Now, the department says it is not moving forward with any criminal charges.
Phillippe "sources" claim Hewitt was the aggressor. In statements to the press, Phillippe has denied the allegations, claiming that he is an advocate for women's rights. But sources connected to him have detailed his side of the story further in interviews with the tabloids. One source provided this interesting explanation of the incident to People: "Elsie showed up to Ryan's house uninvited and under the influence a few days after he had broken up with her. She physically attacked Ryan, caused a scene and refused to leave his home. As she was removed from the premises, she claims she fell and injured herself." To be clear: Hewitt claims that Phillippe threw her down the stairs.
Hewitt says that she is not interested in Phillippe romantically, and that she is not out for personal financial gain. Hewitt's lawyer, Keith Fink, told Us Weekly on Wednesday that Phillippe "attempted to rekindle his relationship with [Hewitt] after the assault. She has zero interest in him." Fink also stated that Hewitt plans to donate any money she receives from the lawsuit to a domestic violence charity. (This is what Amber Heard did after winning a settlement from Johnny Depp.) "Filing a civil lawsuit where you are going to donate all your money to a domestic violence charity is all about empowering women to stand up against domestic violence. It is not a means for revenge," Fink said.
Phillippe has been accused of aggressive behavior by a romantic partner before. After news of Hewitt's lawsuit broke, TMZ discovered that Phillippe's ex-fiancée, Paulina Slagter, accused him of harassment in March. According to TMZ, Slagter, 26, filed an "Annoying or Harassing Electronics Communications Harassment Report" with the LAPD on March 26, claiming that Phillippe sent her a slew of "aggressive" text messages after their breakup. Per TMZ, Phillippe called Slagter a "whore" in at least one of the texts. Slagter dropped the case "shortly after filing it because she didn't want the publicity," TMZ says. But she did tweet this after Hewitt filed her suit on Monday:

Phillippe reportedly plans to sue Hewitt. According to TMZ, he has hired an attorney to file "either a defamation or malicious prosecution lawsuit" against her. Hewitt, meanwhile, has left Los Angeles for her native London. She was ambushed by TMZ and other paparazzi at the airport on Wednesday.
We have reached out to Phillippe, Hewitt, and Slagter for comment and will update this post if we hear back.