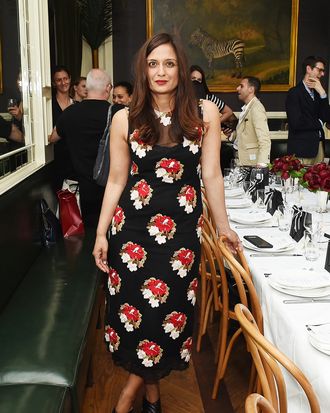 Name a major fashion outlet, and there's a good chance Roopal Patel has been involved at some point in her career. Now the SVP fashion director at Saks Fifth Avenue, Patel has a knack for knowing what's next and how to get there.
Patel grew up on Long Island watching Elsa Klensch on CNN and Jeanne Beker on VH1, moved to New York City to attend NYU, and — after a brief flirtation with the idea of becoming a lawyer — started working her way up the retail ranks. Some of her first jobs were on the sales floor at Urban Outfitters and Diesel before she secured an assistantship at Bergdorf Goodman.
It was the '90s, and the frisson of the era's new fashion had Patel completely in its thrall. "Tom Ford just took his position at Gucci. Alexander McQueen was coming up, John Galliano hadn't even started at Dior. Marc Jacobs was the cool kid on the block. Helmut Lang had his show," Patel says. She was hooked. After Bergdorf, she worked at Style.com and Moda Operandi before starting her own consultancy. Then Saks came gunning for her.
"Marc Metrick and Tracy Margolies, our president and our chief merchant, approached me looking for a fashion director; they were planning on basically transforming Saks Fifth Avenue and taking it to next level," Patel says. After two hours of listening to their pitch, Patel was sold.  "I won't forget standing outside the Saks window on Fifth Avenue saying to myself, "I want to be a part of this. I want to be a part of history."
One of the major initiatives Patel and the Saks team have been working on (among many others) is a renovation of the flagship Fifth Avenue store, the new third floor of which will be unveiled this week amidst great fanfare. "We've asked designers across the globe, everyone from Céline to Balenciaga to Fendi to create one-of-a-kind, exclusive looks for us," Patel says. "They will all be housed in our Fifth Avenue windows, and there will be an unveiling right before Fashion Week with a live presentation."
In advance of the celebration, Patel spoke to the Cut about the personality of the high heel, her aversion to sweatpants, and her obsession with all manifestations of the feather trend. Read on for the full interview.
How do you thank people for a gift?
I send a thank-you note, preferably handwritten on my monogrammed stationary from Terrapin Stationers.
Mood lighting or natural light?
Natural light is the best light; I always feel like I look fresh in natural light. The sunshine just makes everything look better.
What are some coffee-table books that you would be proud to display?
Bruce Weber, A House is Not a Home. I like Kelly Wearstler too. I also have this scarf history of Hermès. It's a beautiful coffee-table book — super colorful, purples and oranges. Then, Peter Lindbergh, A Different Vision on Fashion.
Heels or flats?
Heels. I think they give me a lift. I like the line that they give my looks. Somehow the "personality" shoes always come in the form of a heel. You know, the wild crazy shoe? Always a heel. I think it does a lot for your look.
You can be simply dressed, but if you have a statement shoe, it's everything.
What would you never wear?
Sweatpants. I don't know why. The track look is making a comeback. Sweatpants are not my thing, but I might change my mind — you never know.
What's one trend that you like right now?
I am obsessed with this feather trend that we've started to see on the runways. If I could have a feather on everything, I would. I have a feather T-shirt. I have feather sweaters. I have feather blouses. I'm looking at feather shoes …
Makeup, no-makeup makeup, or actually no makeup?
Makeup during the week. No makeup on weekends. General rule. I'm about a bold lip. I can have nothing else but a bold lip — Tom Ford is always a mainstay. Right now I'm really loving his Ruby Rush color.
Go-to hairstylist?
I've been going to Julien Farel since I was 19 years old. I've only cheated once, but then I went back. He's the best.
What's your favorite song on your playlist right now?
Bryan Ferry, "Kiss and Tell." I'm having a Brian Ferry moment.
What's your fantasy vacation?
I'd like to go take a safari in Africa. My mom and dad were born in Kenya, and I would love to just go for a three-week safari and camp under the stars.
What's your dream luggage?
I have my own signature T. Anthony luggage all in red with my initials RPC, but my dream luggage would be to have no luggage.
What's your favorite pair of jeans?
I like Vetements jeans a lot — they're a classic in my wardrobe — but I'm also obsessed with my AMO jeans. They make a great cut.
T-shirt?
My Dries Van Noten cozy white T-shirt.
Pajamas?
Morgan Lane striped pajamas.
Flower?
I'm obsessed with peonies. I wish they were in bloom 365 days a year. It doesn't matter the color. White, pale pink, deep fuchsia …
Chocolate?
I like La Maison du Chocolat — milk chocolate, even though you're supposed to have dark chocolate. I do like the dark chocolate covered almonds from them; they're delicious.
Linens?
I like Sferra. I'm really specific. I like simple, hotel-style striped linens. So now I have gray, and white with black or different colorations.
Lip balm?
It's a collaboration from Jenni Kayne and Earth tu Face — really good.