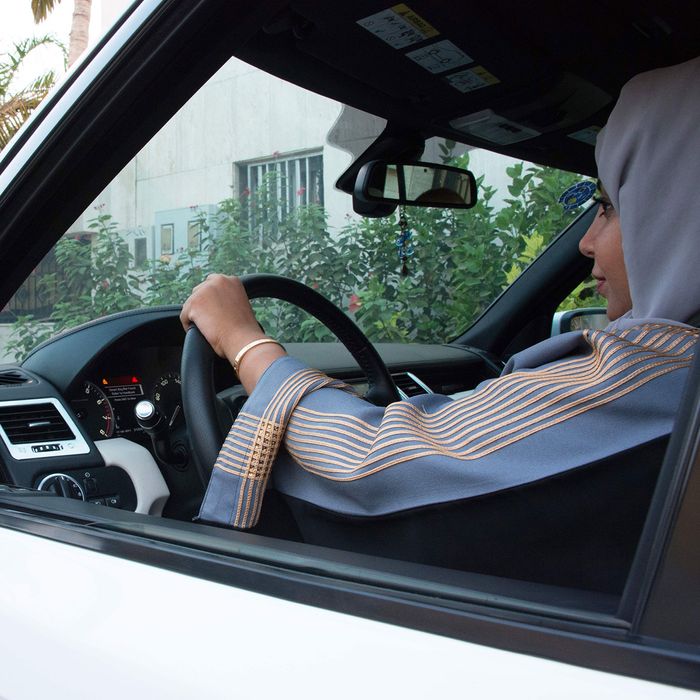 A Saudi woman drives in Jeddah.
Photo: REEM BAESHEN/AFP/Getty Images
On Tuesday, Saudi Arabia announced that it would reverse the decades-long ban on female drivers, making it the last country in the world to allow women to obtain driver's licenses. Human-rights organizations cheered the news, and the U.N. said it was an "important step in the right direction" for a country known for its lack of women's rights. But no one was happier than Saudi women, many of whom say they will now have access to education, work, and travel opportunities they never thought possible in their lifetimes. Here, five of them talk about what the reversal of the driving ban means to them, how it will change their lives — and where they plan to go the very first time they get behind the wheel.
Faten, 21
The news of the driving ban ending shocked us all, and it's been great. The new decree is honestly about so much more than driving: yes, it's FINALLY allowing women to drive here, but on a deeper level, it means we're FINALLY getting a fraction of our rights in this country. Who would have ever imagined that something like banning transportation for a certain gender would exist in a time like this? It's absurd! The number of women who couldn't get things done because of this ignorant law and the women who couldn't get to work or had to decline job offers is insane! I really didn't think I would be able to drive ever, but now us women can finally feel like we have a place in this society. I'm totally looking forward to getting my license — my parents also approve of the ban being lifted. I can't wait to drive myself to work and to school.
The driving issue is very important, but the guardianship law is THE current issue we women face in Saudi Arabia, and we're suffering because of it. This law needs to be ended and forever buried. I honestly wish they banned the guardianship law first, then ended the driving ban. But hey, nobody expected the driving ban to lift in this country, so let's hope the guardianship law does too!
Ruba, 28
The end of the driving ban is the beginning of decadence and sedition. When women start driving they will break that internal barrier, the barrier that makes them hold onto their femininity, religion, and traditions. A woman will be exactly like a man in so many things, but women were never like men and shouldn't try to be. I don't think driving will improve women's economic circumstances, either: If driving were so important, how did we live all these years without it?
Habiba, 20
I really feel the end of the driving ban means Saudi women are about to get more and more rights and do so many things we weren't able to do before. The government's increased awareness about women's rights shows how speaking out about these issues is really important and enhances women's quality of life. Lifting the ban will help women save money, too, because they won't have to spend so much on taxis or on the salaries of private drivers.
Not everybody supports the lifting of the ban, of course. Supporters say that ending it will empower women to have more freedom, but opponents think women aren't physically capable of driving and that it will make them morally corrupt. It's not quite clear why driving didn't morally corrupt men, but people who are against women's rights always justify their opinions in pretty weird ways.
I'm definitely going to get my license, and I know that I want to get a car that reduces the consumption of oil. The first thing I'll do when I get my license is pick up my family and take them all to our favorite restaurant to celebrate!
Nadia, 30
The decision to end the driving ban means women will have freedom, independence, and a sense of security. Right now, half of a woman's income is spent paying foreign workers so she can go where she wants, but after this decision she won't be forced to use such a significant portion of her salary to get around. I don't know if I'll get my license, but I know the first place I'm going if I do: shopping.
Arwa, 26
The end of the driving ban is a victory for women's rights and a huge step to help Saudi women improve their lives. It will make women more independent, which is never a bad thing. For me especially it means I can finally go back to work since I had to quit because no one would drive me, and going alone with a male driver was not an option. I will get my license as soon as possible, and I'll never take any of my rights for granted: Saudi women fought a difficult battle for us to have this right. In terms of what kind of car I picture myself driving … hmm, does a motorcycle count?
With translation help from Sarah Alhakami and Khadra Alattar. Names have been changed. Interviews have been condensed and edited for clarity.