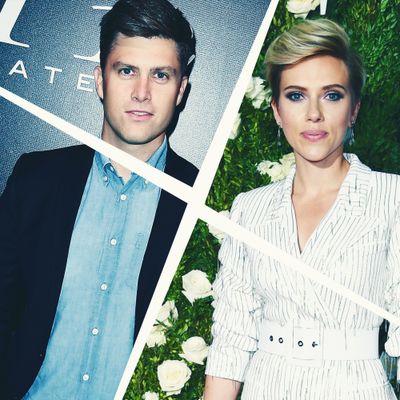 Colin Jost and Scarlett Johansson.
Photo: Getty Images
First, they made out at a SNL after-party. Then, they held hands at a restaurant. And now, "Page Six" reports Scarlett Johansson and Colin Jost have crossed another relationship milestone off their list, as they were spotted "kissing in the rain" during a Diana Ross performance in the Hamptons over Labor Day weekend.
According to the gossip column, Johansson and her "new boyfriend" (ooooh) Jost attended Discovery Communications chief David Zaslav's annual Labor Day party on Saturday — the guest list of which apparently included "the illuminati of the worlds of media, TV, music and business." So-called witnesses told "Page Six" that the new couple "kissed outside and didn't care that it was raining."
On top of being super chill about the rain, Johansson and Jost apparently also didn't care that they were wet kissing around fellow partygoers Martha Stewart, Governor Andrew Cuomo, Jimmy Buffet, Gayle King, Senator Chuck Schumer, and, of course, Goldman Sachs's Lloyd Blankfein.
Ah, romance.