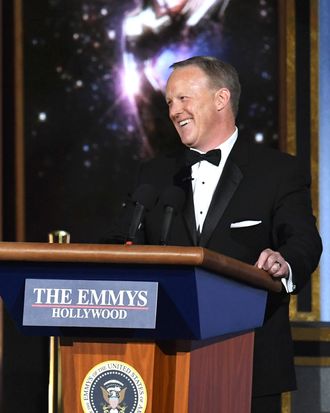 Spicer's Emmys debut.
Photo: Kevin Winter/Getty Images
Where there's a former Trump administration official, there's a person attempting to salvage their garbage personal brand. Take former White House press secretary Sean Spicer, who finally met the pope, turned down a spot on Dancing With the Stars, and made a surprise appearance during the 2017 Emmys.
Spicer wheeled out a podium during host Stephen Colbert's opening monologue and yelled, "This will be the largest audience to witness an Emmys, period," mocking the time he falsely claimed that Donald Trump's inauguration had the largest crowd ever.
The crowd, based on their applause, seemed willing to forgive his past transgressions. (A very "Sean Spicer … welcome to the resistance" moment.) Anna Chlumsky's face, meanwhile, says it all.