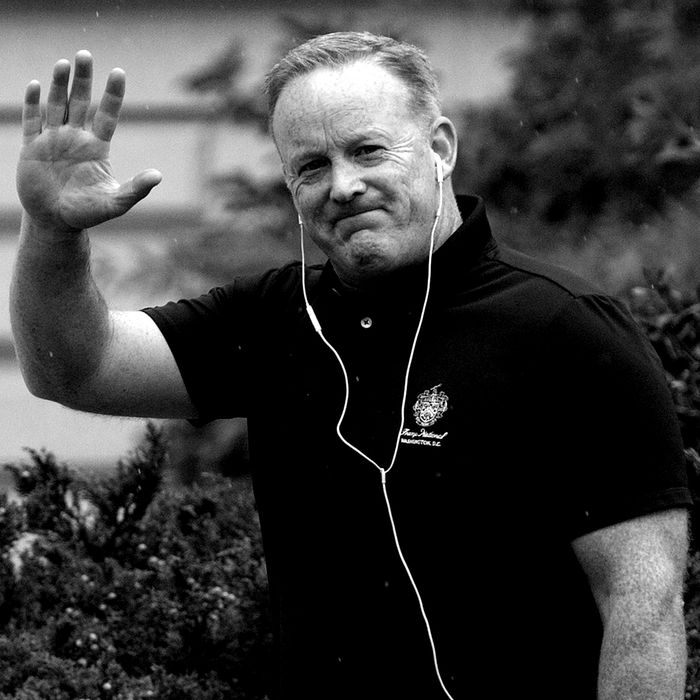 Sean Spicer reportedly wants to cash in on his fame.
Photo: Getty Images
Briefings from former press secretary Sean Spicer used to get more views than actual soap operas, and now that he's out of the White House, Spicer is reportedly looking to cash in on the name recognition that comes with starring in one of the world's most popular TV shows. According to Axios, along with his paid speaking job, Spicer is mulling paid TV appearances in places like Ireland and the United Kingdom.
"The U.S. press briefing … was a prime-time show from Europe to the Middle East," Spicer said while discussing how he was "mobbed" during a recent trip to Europe. He added, "I'm one of the most popular guys in Ireland."
"His name I.D. is massive — he's obsessed with that," an agent who met with Spicer regarding speaking fees told Axios. "He kept talking about how everyone stops him for selfies — that's one of his go-to lines. It's true, by the way. It happened when I was talking to him."
And all those selfie requests seem to be going to his head: "He thought he was a much bigger deal than [other] former press secretaries," the agent added.
Although he's spurned Dancing With the Stars, Spicer is also reportedly juggling other opportunities such as "lucrative" consultancies, Hollywood appearances, and a book about what he's learned from working in crisis communications. When asked if he had any regrets about his time on the podium, Spicer replied, "you'll have to read the book."