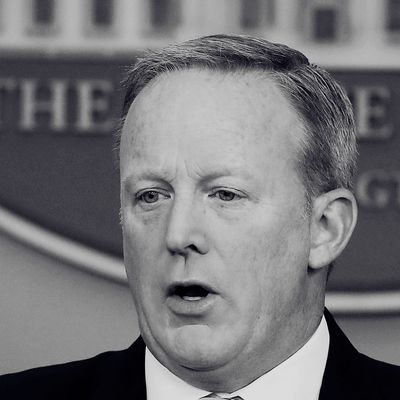 It'll probably look something like this.
Photo: Mark Wilson / Staff/2017 Getty Images
Sean Spicer has finally figured out what he wants to be when he grows up, er, leaves the White House as communications director. Instead of joining Dancing With the Stars, he will be embracing the time-honored tradition of being a political aide-cum-paid speaker.
According to a pitch to potential customers from Worldwide Speakers Group obtained by Politico, "audiences around the world will benefit from the same candor, wit and insight that Spicer brought to the White House briefing room."
Spicer will join Worldwide Speakers Group's roster of paid speakers, which also includes Newt Gingrich and Tomi Lahren. A spokesperson told Politico, "With his well-known candor and extensive experience, Sean is uniquely qualified to help audiences understand how the political environment will impact them now and in the future."
Ah yes, candor, wit, and insight. That seems about right.