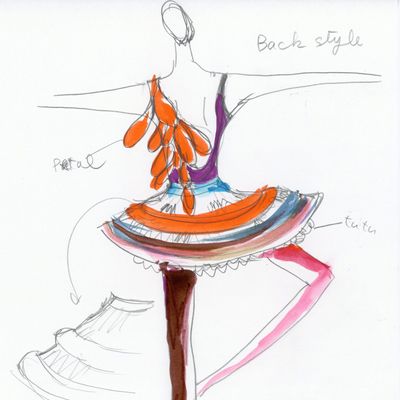 By Tsumori Chisato.
Photo: Courtesy of NYCB
Yes it's Fashion Week, but good designers are also multitaskers. As such, four of them found the time to create their spring 2018 collections and design the costumes for principal dancers in the New York City Ballet's fall fashion gala.
Off-White's Virgil Abloh, MONSE and Oscar de la Renta's Laura Kim and Fernando Garcia, Diane von Furstenberg's Jonathan Saunders and Tsumori Chisato will each design for a set of choreographers and dancers. And boy, are they different. If you thought the only ballet costume was either a Nutcracker get-up or a frilly pastel tutu (sorry to all ballerinas out there), you thought wrong.
Scroll through to see Kim's jeans, Chisato's patchwork and shoulder pads, and Abloh's bustiers.