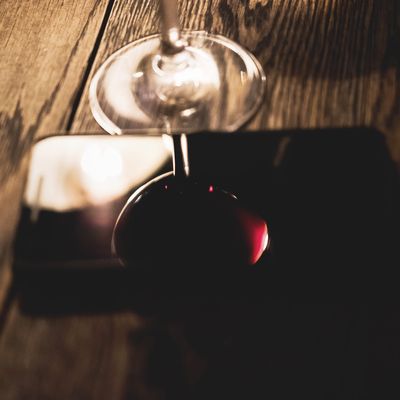 Photo: picturegarden/(c) picturegarden
Get Sex Diaries delivered every week.
New York's Sex Diaries series asks anonymous city dwellers to record a week in their sex lives — with comic, tragic, often sexy, and always revealing results. This week, a receptionist who buys her friend a birthday gift at Babeland: 23, straight, Bushwick.
DAY ONE
7:50 a.m. I wake up to a reminder on my phone: "pack sexy clothes." I'm supposed to be meeting my Dom for the first time tonight. I've been interested in being a sub for a while, but I've only experienced some light tying up so far. I'm nervous about doing an intense sub-dom evening, but the Dom is experienced and has a hot Suits vibe. Plus he's 33.
We met how I meet almost all guys — on apps. Lately I've had good experiences on Feeld, which originally started as the "three-way app," but is now geared toward more kink/sex-friendly people. We've been texting and exchanging photos for about two weeks, but since he manages a high-end restaurant and works late, it's been hard to find times to meet up.
9:30 a.m. I'm the receptionist at a media/entertainment organization. It's very much a "first job out of college," but I'm starting to feel pretty stuck in it. I was hoping I'd be hired in their content division, but I wasn't — and I don't think a transfer will happen anytime soon.
5:50 p.m. I've been nervous-excited all day. Inside my work's bathroom, I change into a thong and leotard underneath my black jumpsuit and catch a Lyft to meet the Dom.
6:10 p.m. I walk into a quiet dive bar. I spot the Dom in the corner, with combed-back hair and a fancy suit jacket. I down a glass of wine as we make awkward small talk about our jobs. Then he asks me if I have a piece of paper for him, meaning a list of my rules for tonight. I tell him I wrote them on my iPhone. I feel like such a millennial! He agrees to my rules (no blindfold, no pee or poop play) and we get up to leave.
6:34 p.m. We arrive at his Lower East Side walk-up apartment. He asks if I'm ready, and even though I'm so nervous, I reply, "Yes, sir." He makes me face the door and starts with some light spanking, calling me a dirty slut. He tells me to get naked and uses a tie to gag me and starts hitting me with … a rope? Damn this stings.
Thankfully, he stops with that and starts to tie me up with the rope. "All my sailing lessons have really paid off," he says. I try very hard not to laugh. Who the fuck says that when they're dominating someone? He throws me on the bed and sticks his fingers deep into my pussy and I moan. He can't have the neighbors hear, so he puts on … Kanye West's Life of Pablo. Would not choose to be dominated to "Ultralight Beam," but okay. He starts using a butt plug in me along with the Magic Wand on my clit. I can feel myself almost start to come. By the time he's given me permission to orgasm, I've lost it.
7:40 p.m. He says we're done and unties me. He didn't come. This BDSM stuff is different from what I expected. To be honest, I wasn't exceptionally turned on for most of it. After I get dressed, he kisses me. It's our first kiss.
7:43 p.m. I check my phone and see that S texted me. We met on Feeld, but it's been the most traditional courtship I've ever experienced. He's not my usual type, physically — very all-American look — but as I've gotten to know him I've realized he's more quirky and mature than he lets on. We've only gone out three times, but each time we've hung out I've felt more comfortable around him. I've never had a boyfriend, so going on actual dates and having someone text me because a movie made them think of me is still new to me. And I like it.
8 p.m. I go over to a close friend's apartment to catch up for a bit. I tell him I just hooked up with someone, but don't mention the BDSM parts. My friends are pretty sexually progressive, but they're definitely not as open or comfortable trying new things as I am. I've always been pretty sexually adventurous, going back to when I was a teen. I've always had a high sex drive, and since I grew up watching Sex & the City (my parents were progressive in that sense) I was exposed to powerful women taking charge of their sex lives. The bondage stuff I stumbled upon when I started watching porn. Now I can't even come to "vanilla" porn.
10:15 p.m. I get home and see the remnants of tonight on my ass. I can make out the rope bruises and the Dom's handprint. It looks horrifying except it doesn't hurt at all. I text my Dom and thank him for the night and then masturbate to some bondage porn.
DAY TWO
10:00 a.m. The Dom texts asking how my ass is and I send him pictures. He says I have sensitive skin.
1:30 p.m. On an average day, I'd say I talk to about three different guys. Today I've been chatting with Pratt on Bumble. He's somewhat of a hot young hipster — mussed-up blond hair, round glasses, cocky smile. He just gave me his number, so I shoot him a text.
6:30 p.m. Yoga class. I try to find the "inner peace" but end up musing about being dominated. I enjoyed myself, and I'd do it again, but I'd want there to be a lot less whipping. It really took me out of it.
7:40 p.m. I get out of class and see that Pratt texted to ask if I'm free tonight. I'll have to rush home to shower, but he's so cute I want to make it work.
9:20 p.m. We meet at a grungy bar in Bed-Stuy. He's a little more reserved and chill than me, so I try to tune down my extroversion.
10:45 p.m. Pratt's an interesting guy; he grew up between Nevada and the Middle East. I decide to invite him back to my place. He accepts.
11:15 p.m. Pratt and I smoke out of my vape. He's not making any overt moves to hook up with me, and it's getting late so I ask if he wants to make out. His response: "I wasn't expecting this to happen." At this point, I get kind of annoyed. Why did he think I invited him back to my place?
11:30 p.m. We start making out. His hands barely touch my body. He lies on top of me, kissing me. This would be nice if I were 16.
11:45 p.m. After making out for 15 minutes or so, he says he should go since he has an early class in the morning. I walk him to the door and ask if he'd want to hang out again sometime. He mumbles yeah as he walks out. I know I'll never see him again.
DAY THREE
9:30 a.m. Work all day.
6 p.m. I head to Babeland to pick up a butt plug. I love Babeland; the staff is so friendly and helpful. The saleswoman shows me the lube that Jay-Z and Beyoncé allegedly picked up when they visited two years ago. I buy that for a friend's birthday gift, plus a "beginner's plug" for myself.
8:15 p.m. At my therapist's. I've been seeing him for over six years. The past year we've almost exclusively worked on my relationships with men, specifically my tendency to put pressure on guys in order to get some relationship or sign that they like me. Unsurprisingly, that hasn't worked for me in the past. Lately I've gotten a lot better at taking a step back and letting relationships run their course.
10 p.m. I get home from therapy and text the Dom a photo of my butt plug. I turn on some porn, lube up my butt plug, and use my vibrator. It is amazing. I fall asleep happy.
DAY FOUR
9:45 a.m. Another regular workday.
6:30 p.m. Yoga class.
7:30 p.m. I get out of class and see that Gerald texted me saying he's free to meet up tonight. I met Gerald on Feeld, and although we've been texting for over a month, we still haven't met up. I'm exhausted, and kind of want a chill night doing face masks and playing with my butt plug, but I agree. It's time we meet in person.
8:30 p.m. Rush to take a shower and eat before meeting Gerald. I decide to bring my butt plug, nipple clamps, and vibrator in case we hit it off.
9:30 p.m. I meet him at June in Bushwick. He's shorter than I imagined, but height doesn't bother me too much. I used to date someone who was five-foot-one (I'm five-foot-five).
10:15 p.m. Gerald is a sweet guy. He's a little too nice for me to know whether we'd work long term … but I've enjoyed talking with him enough that I suggest we go back to his place. I'm at this point in my life where I don't need to feel the fire in my loins to wanna get in bed with someone.
11 p.m. Over text, Gerald and I talked frequently about our mutual interest in butt stuff. So it's not too much of a surprise when he shows me his large purple dildo and starts using it on himself. We start making out, then he goes down on me. I pull out my "bag of goodies" and he starts using my butt plug on me. He fucks me in missionary while my plug is in. We switch to doggy; I keep using my vibrator. I come four times.
He finishes and we lie on the bed for a minute, but I'm tired so I start getting dressed to go. He's still lying there naked, and I remember he's kind of a feelings-y guy, so I ask if he wants to cuddle. He does. I used to be really into cuddling, but as I've gotten older I don't see the appeal in it. If you're cuddling someone you just met, it can feel like false intimacy. Cuddling with someone you're seeing — that's different. Even I can admit that's enjoyable. It just rarely happens with me. Still, cuddling with Gerald now isn't half-bad.
11:34 p.m. I decide I've had enough and order a Lyft. We make out while waiting for it to arrive.
12:15 a.m. Sleep, finally.
DAY FIVE
8 a.m. I wake and add Gerald to my Word doc of guys I've slept with. Including him, I've slept with 20 guys.
7 p.m. One of my best friends from college is visiting and staying with me. We head to a birthday party on a rooftop in Brooklyn. I gift the birthday girl the Jay-Z and Beyoncé lube. She is stoked.
8:40 p.m. S texts me to ask if I'm excited for the Meadows music festival this weekend. I got free tickets and offered for him to come with me, but he's away with his family.
It's so corny but I just smile when I get a text from him. I'm usually a pretty harsh judge of people right away, and I was not feeling S after our first date … or when he kept texting me every day afterward. It wasn't until a friend of mine said he was texting me that much because he liked me that I decided to go out with him again. We've only gone out three times, but with each time I've seen him I've liked him more. He's been a surprise, in a really great way. Plus, he ate my ass for the first time ever, which felt amazing.
12:45 a.m. My friend passes out in my living room, and I masturbate. I use the butt plug with my nipple clamps and my vibrator. I come twice and fall asleep.
DAY SIX
10 a.m. Grab bagels with my friend.
3 p.m. My sexual exploits this week were fun, but I don't feel any strong urge to repeat them with those guys. I'd see the Dom again, I guess, just to experience more BDSM. I feel like most people around my age are afraid of "catching feelings" for someone they hook up with, but it seems like "catching feelings" is what makes hookups worth it, to me. Is this what hookup-culture ennui is?
7 p.m. Dinner at Eataly with friends.
10 p.m. Drinking at a friend's house. We gossip about our college hookups and who's broken up since we graduated. I shudder, thinking about the guys I used to think were "good catches." Being at a small liberal arts college with a small pool of straight men with massive, inflated egos will really lower your standards.
DAY SEVEN
1 p.m. I haven't heard from the Dom in a few days. I sense he may have lost interest, so I text asking if he wants to continue "this kind of dom relationship." I'm not so attached to him, but I'd do this BDSM thing again.
2:30 p.m. He replies, "Yes sorry traveling." All right. We'll see if he texts again.
4 p.m. Head to the Meadows with a friend. Text S a photo of me at Weezer. He is infinitely jealous. Although I'm excited to see him again, I'm secretly glad he couldn't come with me — it would have been too exhausting for a fourth date.
7:30 p.m. Leave the concert early because I'm exhausted. I tell S, and start to get anxious that he'll think I'm lame for leaving. I can feel my anxiety start to spiral, but I remind myself to take a step back. We've been texting more or less every day for the past month. He likes me. And besides, reflecting on my exploits this week, I wouldn't exactly call myself "lame." We all have our own ideas of fun.
Get Sex Diaries delivered every week.
Want to submit a sex diary? Email sexdiaries@nymag.com and tell us a little about yourself.