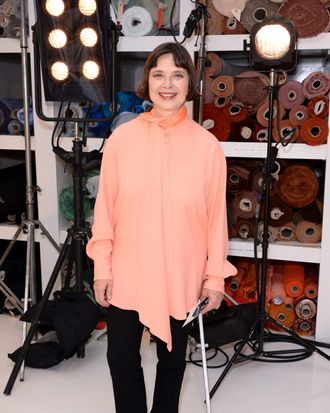 Isabella Rossellini.
Photo: Andrew Toth/Getty Images
On Sunday afternoon at the Sies Marjan spring 2018 show, the only thing beaming brighter than the face of Italian actress Isabella Rossellini — who, for the first time, watched as her son, Roberto Rossellini, walked the runway — was Isabella Rossellini's neon-orange shirt, which was uncharacteristically colorful.
Rossellini was first introduced to Sies Marjan this summer, when she starred alongside her son in a look book for the brand's debut menswear capsule collection, shot by Bruce Weber. Since then, she told the Cut after the show on Sunday, she's fallen in love with designer Sander Lak's penchant for colors other than black.
"I'm this old-fashioned New Yorker, and in my wardrobe there's a lot of black," she said. "I've become very tired of black, but it can be difficult to add color. This though —" Rossellini pointed to her silk Sies Marjan blouse and the tie collar. "This is almost like black. I can't explain it. I haven't done much to my wardrobe except add this shirt, but boom! All of a sudden it's colorful."
Rossellini is right: Sies Marjan has made wearing colors feel just as easy as opting for their absence. For most New Yorkers, monochrome clothing means no-fuss functionality; and functionality means all black. But Lak — much like the Mansur Gavriel designers — is now offering a brighter alternative. In fact, wearing cool shades of cucumber-green from head-to-toe might soothe you even more than an all-black outfit, especially during such already-dark times.
"You don't have to change your entire wardrobe," Rossellini went on to say of her recent change of heart toward all black. "And I don't have any intention because I'm very practical. It's so convenient to wear black when you travel, and I travel a lot. But I love this one flash of happiness. It's so optimistic!"
With that, Rossellini smiled and tossed her short haircut, adding: "Really, it's joie de vivre."