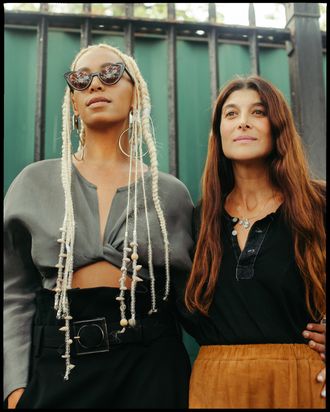 Solange Knowles and Maryam Nassir Zadeh.
Photo: Biel Parklee.
Guerrilla fashion shows are de rigueur. But nothing was more guerrilla or counter-intuitively low-key as Maryam Nassir Zadeh's "runway" in the middle of the East River Track, where Solange Knowles performed for an audience of bemused Tuesday-afternoon joggers.
The invitation read, "We will be doing a bit of a guerrilla show starting promptly at 3 p.m. (If you are late you will miss the show)." Zadeh told the Cut that her team had secured the permit to do a photo shoot there only the day before.
"I didn't care if it fell apart. I needed to realize that dream of seeing the girls here," Zadeh said. "If I didn't do it, I would always regret it. And I was willing to take the risk."
Before 3 p.m., street-style peacocks filled the bleachers on a first-come, first-serve basis. Solange Knowles appeared in long platinum-blonde braids, large sunglasses, and a gray crop top. She kicked off the show with her seven-person band as fitness buffs continued to jog around the track.
Models marched past wearing neon-green jackets, metallic culottes, and sheer-pink gingham dresses. Many were friends of Zadeh, including designer-model Mari Giudicelli and State of Undress host Hailey Benton Gates. Despite the hubbub, the crowd at the East River Track at 3 p.m. on a Tuesday continued to lunge, run, and do headstands.
Zadeh said the location had become an escape for her over the past year, and she couldn't get past the juxtaposition of "elegant women" and the scenery. "I just find running tracks very meditative because everyone is in their own lane, everyone is doing their own thing, but you have movement and progression and independence in the area."
And as for the runners, the Cut spoke with Roberto Candelira, who jogs on the East River Track for two hours a day. When asked if he had noticed that Solange was playing, he said, "No, no, I've never seen her."
As for his take on the show? "They're beautiful clothes," he said. "If I have time to take my wife to a store, I'll buy some."