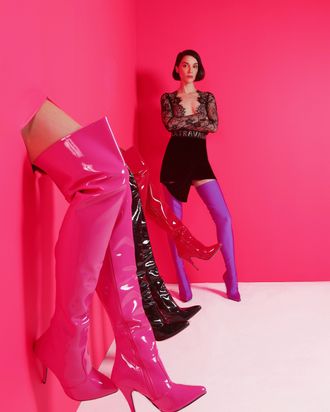 A series examining the outer edges of style.
Annie Clark, the Grammy Award–winning singer-songwriter and guitar player known as St. Vincent, has been busy. Two singles from her upcoming fifth album, Masseduction, are already out; her Fear the Future tour is kicking off in little more than a week; and she's slated to direct her first feature film, adapting Oscar Wilde's Portrait of Dorian Gray. (Her short horror film The Birthday Party premiered at Sundance Film Festival this year.)
Still, Clark has found time to curate the House of Peroni, a pop-up installation in New York, Los Angeles, and Miami sponsored by Peroni beer and inspired by the now-trendy Memphis design movement. You know Memphis, even if you don't know the name: It's the '80s aesthetic of bright colors, playful shapes, and squiggly lines that eventually trickled down to places as mass as the Saved by the Bell set.
For the pop-up, Clark worked with a range of collaborators including Scottish-born poet and installation artist Robert Montgomery, mind-bending British painter Patrick Hughes, and her own set designer, Lauren Machen. Together, they've created a space that offers a Being John Malkovich–like window into her headspace.
The Cut caught up with Clark over the phone from Los Angeles to talk her inspirations, her pivot into directing, and that time she was so moved she cried at the back of a New York church.
When Peroni approached you with this project, did you have an idea right away of what you would like to do?
Yes! It's very rare to be able to collaborate with visual artists whose work I really love. A lot of times, media unfortunately stay in their own lanes. I had a really long list but I couldn't be gladder about the people who are involved. At one point I wanted to figure out how to incorporate Isabella Rossellini. It didn't happen, but maybe next time.
Who else have you brought onboard? I know Robert Montgomery is one artist.
Sure. I'm a big fan of Jenny Holzer and her shattering sentences, or edicts, in public spaces. They feel like the propaganda that they are, and I found Robert Montgomery's work similar — simple but really evocative.
I'm also working with a good friend of mine who worked on the art direction for my album artwork, Lauren Machen. She's doing an amazing installation that's centered around the more subdued elements of the Memphis design as it progressed and evolved through time. It's a physical space for people to explore.
What's your favorite Jenny Holzer piece?
"PROTECT ME FROM WHAT I WANT."
Why the Memphis group in particular?
I first became aware of Memphis when it swept the world in the '80s, but I sort of rediscovered it as I worked on the creative for my last record. Lauren Machen made this big Memphis-style pink throne that I sat on for the album cover, and it loomed large in the visual language of that record.
I think Memphis speaks to me in this particular era because it's absurdist and postmodern but also visually pleasing. It's the opposite of austere — it's playful and light, and I think in Italian design they do that very well. It's classic and it's beautiful but there's also a lot of humor to it. I mean, look at the films of Fellini, that kind of imagination — it seemed like a through line in Italian art.
You mentioned Fellini. Can I even ask what your favorite Fellini film is?
I might say La Strada.
When did you first see it and what did you think?
Oh, probably ten years ago. Great art has so many layers and so many ways and points of entry, so I think when I first saw it, I was just appreciating it for the whimsy and the aesthetic of it. Then, revisiting it, you go in for more of the meaning.
Actually, you know what? I might say Satyricon because he went even further down the road of deeply extravagant design. It's really something.
What other directors have influenced you?
I think the modern Italian director Luca Guadagnino is absolutely wonderful. I remember seeing I Am Love at the Sunshine Theater when it came out, and I was so moved by it that I walked out and walked immediately to a cathedral and sat at the back of the pews and just cried. It was so beautiful. And Tilda is the best.
Was directing always an ambition of yours, or was it something you came to through The Birthday Party?
I caught the bug directing the short horror film for the first time.
Is it easy to move from one medium to the other, from music to directing? Do you have to take off your musician hat and put on your director hat, or is it more fluid?
It's really fluid. The themes that you're working with on one work filter into the themes that you're working on in another medium, and they all cross-pollinate.
With your music, do you instantly have an idea of the visuals when you're working on the album, or is that something that happens later?
On this record, it happened kind of symbiotically. As I was nearing the home stretch of finishing the album, that's when I started working with Willo Perron, my creative director, and we started brainstorming what the future of the visual was.
What's the brainstorming process like?
We have a great rapport where we can just rap for hours. Besides that it really is about: Here is a mood board, here's the visual bible, here's the world we're working in, and we keep it consistent per album. It's very important that it stays consistent just so that people can recognize you and get a sense of who you are — for this period.
What would we find on those mood boards?
Poison Ivy from the Cramps, Pee Wee's Playhouse, Vivienne Westwood.
The theme of our fall fashion issue is Extremes. Do you feel that applies to how you approach your work and the visual language you've come up with? 
Extremes mean high stakes, and high stakes always mean better art.
The House of Peroni runs from October 5 to 8 at 201 Mulberry Street, New York.