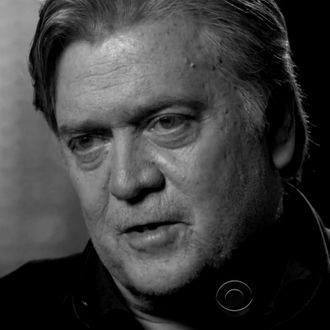 Steve Bannon.
Photo: Courtesy of CBS
In mid-August, Steve Bannon was removed from his role as White House chief strategist and promptly returned to his job helming Breitbart News. The far-right nationalist promised to unveil "Bannon da barbarian" and "go to war for Trump," rhetoric he's doubling-down on in a new 60 Minutes interview with Charlie Rose.
CBS News released a short clip on Thursdsay morning, in which Bannon says that he's correctly perceived as a "street fighter," which is for sure what most people think when they look at a photo of him. He also says that he's going to be Trump's "wingman," which is also, uh, not exactly how that word is typically used.
The full interview airs on Sunday, September 10.