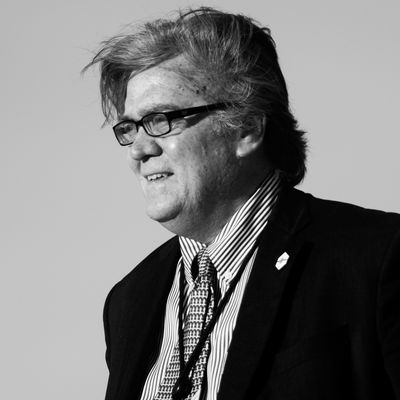 Steve Bannon.
Photo: Jim Watson/AFP/Getty Images
Shortly after George Clooney reminded the world that Steve Bannon is a "failed fucking screenwriter," "Page Six" reports the self-proclaimed "wingman" to the president is trying his hand at Hollywood yet again. Only this time, instead of "Shakespearean rap musicals," Bannon apparently wants to make Westerns.
Bannon has been meeting with movie companies since leaving the White House in August, according to "Page Six." But while his foray back into Hollywood may be making some people in "liberal Hollywood circles" feel "queasy," movie execs have apparently been more than happy to hear out the Breitbart News executive chairman. Per "Page Six":
"The Western thing actually makes sense when you consider his strategy with Trump," said a source, referring to Bannon's trademark appeal to voters with old-school values. "Maybe [Bannon] thinks there's an untapped market for movies about John Wayne-style alpha males," the insider added.
In addition to his attempt to depict the L.A. riots through a rap musical, Bannon also once wrote the script for "an erotic science-fiction retelling" of Shakespeare's Titus Andronicus — but set in space. "Page Six" notes that the script included an unforgettable direction: "He climbs onto her and their forms dissolve, blend and blur in an erotic scene of ectoplasmic sex."
Can't wait until he tries to get a meeting with Clooney.