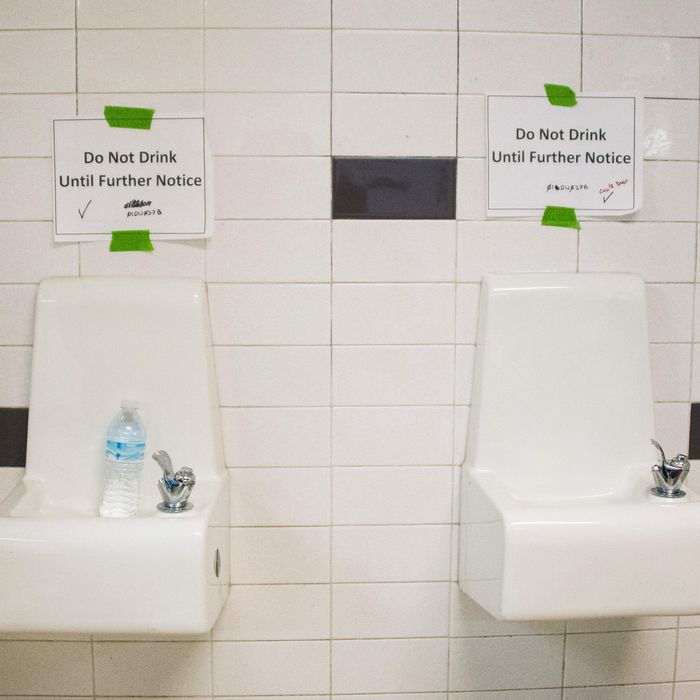 Water fountains at Flint Northwestern High School in May 2016.
Photo: JIM WATSON/AFP/Getty Images
A new study has found that fertility rates in Flint, Michigan, decreased by 12 percent and fetal death rates increased by 58 percent after the town starting using lead-poisoned river water in 2014.
The paper, written by health economists Daniel Grossman of the University of West Virginia and David Slusky of the University of Kansas, looked at the birth and fetal death rates in Flint and compared them to those of other Michigan cities, like Grand Rapids, Lansing, and Detroit. While other cities showed no significant change, they found that fertility rates in Flint dropped precipitously "for births conceived around October 2013, which persisted through the end of 2015."
The authors attribute this sudden decline to the fact that the city, in attempt to save money, switched the source of its public water supply from Lake Huron to the Flint River in April 2014, "meaning these births would have been exposed to this new water for a substantial period in utero (i.e., at least one trimester)."
What's more, because residents were initially unaware of the amount of lead in their water, they likely ingested more of it during that time period.
Grossman and Slusky estimate that of the children conceived between November 2013 and March 2015 "between 198 and 276 more children would have been born had Flint not enacted the switch in water."
Although the city switched its water source back to Lake Huron in October 2015, Flint still has far higher levels of lead in its water than other Michigan cities. Currently, 15 people are being charged in connection with the crisis.