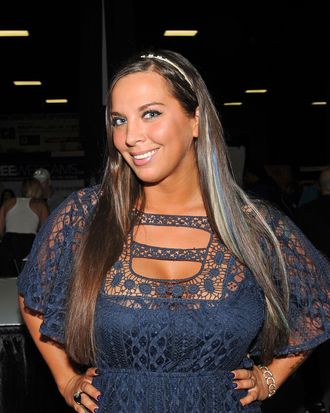 Leathers.
Photo: Bobby Bank/Getty Images
On Monday, disgraced former Democratic congressman Anthony Weiner was sentenced to 21 months in prison for transferring obscene material to a minor, otherwise known as preying on a 15-year-old girl. One person who's reportedly thrilled by the news? Sydney Leathers, the woman at the center of Weinergate 2.0.
"I'm just happy he didn't get off with only probation. He deserves some prison time for sure," Leathers told the New York Post. "My birthday was Saturday and I'm pretty sure this is my gift."
Back in 2013, Weiner was the front-runner in the New York City mayoral race despite having resigned from his congressional seat two years earlier after he accidentally tweeted out an explicit photo of himself. And then, of course, another sexting scandal broke. (Less expected was learning that Weiner referred to himself as "Carlos Danger" during the act.) Shortly thereafter, his sexting partner was identified as the 23-year-old Leathers.
She spoke to the Cut in 2015 about how the scandal deeply affected her personal and professional life.