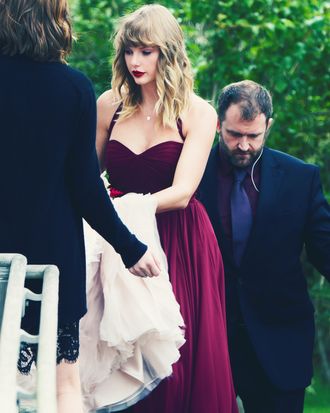 Photo: Splash News/Splash News
It has been a big week for Taylor Swift. Today she released her latest single from her sixth album, "… Ready for It?" The song comes after a mixed reception to her single "Look What You Made Me Do" and that wacky music video for the song that debuted at the VMAs.
But despite this high-profile content-dropping, Swift has stayed out of the public eye. (Swift is apparently happily dating Joe Alwyn; also, according to BFF Gigi Hadid, she has been happily at work in the studio.)
But this weekend, Swift visited Martha's Vineyard, Massachusetts. The star was in town to serve as a bridesmaid at close friend Abigail Anderson's wedding to photographer Matt Lucier at the Old Whaling Church in Edgartown.
The tony, yet subdued, island just off Cape Cod is a popular vacation spot for politicians and celebrities, like President Barack Obama, Larry David, Bill Murray, and Amy Schumer — and fans typically give celebrities their space.
But Swift's fans are a devoted bunch, and they waited in the rain this weekend outside the church for a glimpse of the star.
And the tough Boston crowd was apparently too much, too soon. As Swift prepared to leave the church, the star's security guards held up two black sheets to block any view of the performer. The Swifties, audibly disappointed, started to boo loudly when they realized what was happening.
"Taylor, we love you!" a Swiftie in the crowd shouted.
"Taylor, we thought you loved your fans!" someone else cried out.
"Very disappointing, not cool," another waiting fan said, frustrated.
Hmm. This might not be good for Swift's reputation.