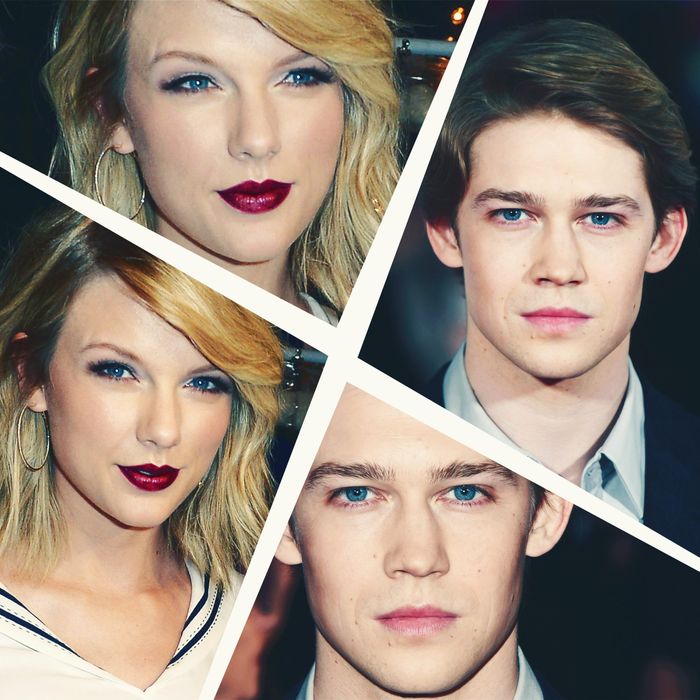 Taylor Swift, Joe Alwyn.
Photo: Getty Images
Taylor Swift may be heavily promoting every brand in the world, and her upcoming album reputation (stylized with a lower-case "r," of course), but at the end of the day, she's just a regular girl who is still dating British actor Joe Alwyn. Don't tell anyone, though — it's a secret.
According to a report by the Sun — the same British tabloid that broke the news of her last two relationships — Swift recently flew "under the radar" to visit her iPod-owning boyfriend and his family in London. But because she's so private, the pair decided to shack up at her friend Cara Delevingne's flat instead of a hotel — where they'd be hounded by fans and unable to just live.
"Obviously Taylor can stay at the world's swankiest hotels but that's not really her bag," a "showbiz source" told the Sun. "She's trying to keep a low profile with Joe, and staying with Cara has let her do that. Instead of being stopped by fans for selfies, they've been able to come and go totally unnoticed." In fact, the couple is so normal and chill, they even took Delevingne's dog out for a walk in the park.
If you're wondering how the Sun got (yet another) exclusive report on Swift's ultraprivate love life, perhaps you should look no further than a very good theory put forth by Spin. Swift recently started releasing a bunch of behind-the-scenes footage from her Look What You Made Me Do video — just as Cardi B was poised to take over her No. 1 spot on the Hot 100 next week. Given the timing, could this Alwyn scoop be part of a campaign to keep Swift on top?