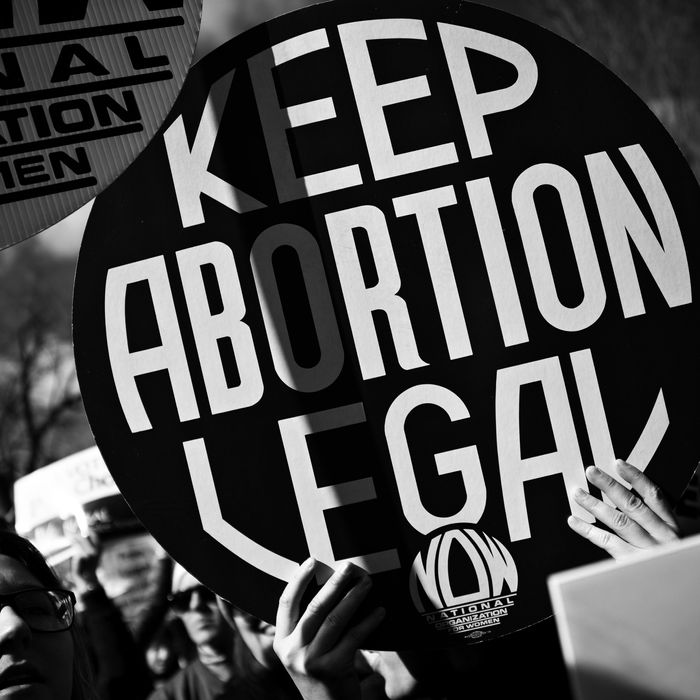 Pro-abortion groups were pleased with the decision.
Photo: Andrew Harrer/Bloomberg via Getty Images
Back in May, Texas governor Greg Abbott signed a law banning one of the safest and most common second-term abortion abortion procedures: dilation and extraction, or D&E abortion. The law would've had a devastating impact on low-income women, and could potentially have sent anyone who performed a D&E abortion to prison.
But several pro-abortion groups, including Whole Woman's Health and Planned Parenthood, sued the state's attorney general over the law, and on Friday – the day it was set to take effect – a federal judge temporarily blocked it.
As NPR reports, U.S. District Judge Lee Yeakel issued an injunction preventing Texas from outlawing the procedure for two weeks. In his ruling, he wrote that the law "leaves that woman and her physician with abortion procedures that are more complex, risky, expensive, difficult for many women to arrange, and often involve multi-day visits to physicians, and overnight hospital stays."
In response to the ruling, Amy Hagstrom Miller, the CEO of Whole Woman's Health, said she was "elated" at Yeakel's ruling, but warned that the fight was far from over. "We ask our communities to remain vigilant," she wrote.
And for good reason — the Texas attorney general's office responded with a combative statement of its own. "Dismemberment abortions are gruesome and inhumane, which makes it troubling that a district court would block Texas' lawful authority to protect the life of unborn children from such a barbaric practice," it read. "The Texas Attorney General will continue to defend our state's legal right to protect the basic human rights and dignity of the unborn."
The two sides will meet again for a hearing on September 14, where the judge will decide whether to extend the injunction.