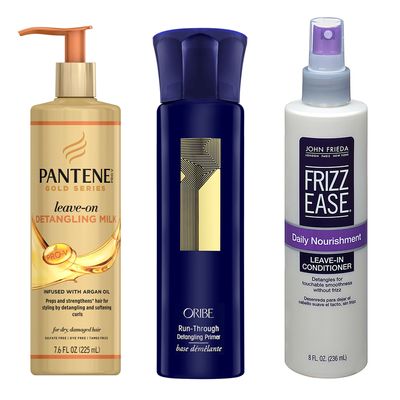 Uncombable hair sydrome is real and scientists say there is no cure. But you don't have to have the condition to know how distressing it is to discover clumps of hair torn out by your comb. Despite gobs of conditioner, my hair is prone to significant tangling. It's long in length, fine in texture, and chemically processed, plus I live in an area with hard water that makes it knot up the moment it gets wet. Sometimes, a celebrity-style buzz cut seems downright tempting, but I'm afraid I lack the bone structure and DGAF attitude to pull it off.
And so I went on the hunt for the best detanglers. These conditioning formulas not only untwisted my tangles but imparted shine, eliminated frizz, and added volume, too. Read on to find out which ones you should add to your routine.
Recommended With Reservations
Pantene's Gold line is designed for dry, damaged, relaxed hair, and I found it performed well on my chemically treated strands. It's the only detangler I used that is a cream rather than a spray. I rubbed on two pumps and was able to get a rough finger-comb going, followed by an almost seamless brushing. I didn't use any additional styling products on my ends, but I probably should have: They were a bit dryer than I'd hoped.
It took two rounds of spritzing on this self-proclaimed "intense" detangler, but afterward my brush glided through my hair without a single snag. The formula itself is watery and light, so it didn't weigh down my roots or make them look greasy the next day. I liked the sophisticated, citrus-meets-earthy scent, but as for the claim of shine, I can't say I saw much difference.
I drenched my ends in this lightweight mist but still experienced a few snags and tears. Once I was done combing, however, my hair felt intensely moisturized, and in the days following my ends were silkier and less fuzzy than usual. The minty spray is an acquired scent, but the notes of tea tree oil and lavender were soothing while falling asleep.
This is the thickest formula of the bunch — less a mist and more a sprayable leave-in conditioner. I applied it with a heavy hand to my dry ends, but avoided contact with my roots in fear they would go flat. It not only detangled, but also made my strands feel hydrated and smooth. I was satisfied enough to skip any other styling products. I liked this one, but someone with finer, thinner hair may not.
I kept spraying and spraying this clear mist, but despite my heavy hand, my hair didn't feel like it had anything on it. It's a safe option for those that want to mix products without weighing down their hair. I liked the smell, and the shine it brought to my highlights.
I was intrigued by Paul Labrecque's ingredient list with additions like acerola fruit extract, which promises to "neutralize hard water" (yes, please!) and vitamin B5, a supposed body booster for "fine, limp, or weak hair." I concentrated the spray on my knotty mid lengths (per the instructions) and my comb made it through fairly easily. Once it was dry, it did feel fuller. This one also contains UV filters to help prevent color fading.
The Best-Smelling Drugstore Option
With its UV filters, humidity resistance, and coconut scent, Sun Bum's detangler is best-suited for battling post-ocean knots. The tiniest spritz allowed my brush to slide through my hair, and the coconut-oil-and-banana-peel scent makes a day at work smell like the beach.
Best for 'French Girl' Hair
This milky oil infusion felt like nothing else — the finest mist that I tried. A few spritzes here and there soaked right in, leaving my hair noticeably hydrated and shiny. It's so lightweight I reapplied it even after my hair was combed through. My strands dried looking natural, but frizz free — one step closer to that enviable French-girl hair.
Everything about Oribe's detangler is luxurious, from the outer packaging to the Côte d'Azur–inspired scent (bergamot, jasmine, sandalwood). You're pretty much guaranteed a "You smell so good" compliment; I got several. Oribe isn't kidding with the name either: I sprayed this one from my roots to my ends and could instantly run my fingers through my hair. Combing it took mere seconds, and I was thrilled to see less hair fall out than usual. For that reason alone, it's worth every penny.
The OG frizz buster did not disappoint in the detangling department. I spritzed a generous amount of the lightweight spray from root to tip and it smoothed my rat's nest pretty quickly. I allowed my hair to air dry while out on a hot, muggy night, and also found this prevented flyaways and puffiness, too. For those who have the patience to use a blow dryer in the summer, it also contains a heat protectant.
If you buy something through our links, New York may earn an affiliate commission.