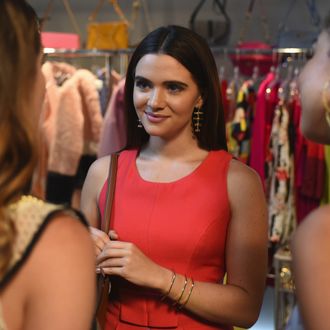 Jane, played by Katie Stevens, on
The Bold Type
.
Photo: ABC
We've all had that moment of TV déjà vu, the feeling of watching something happen to a favorite character that's happened to us. But it's another thing entirely to see your actual story play out on the small screen — especially when it involves your first job at a magazine, a dynamic boss you're desperate to please, and a foreign object that, for the life of you, you can't get out of your vagina. This is the rough outline of what happened to me when I worked at Cosmopolitan, and to Jane on The Bold Type.
The Bold Type is former Cosmopolitan editor-in-chief Joanna Coles's TV show about the staff of Scarlet, a Cosmo-like women's magazine. After the show's finale last night, it's worth revisiting what happened to Jane in episode two, O Hell No: For a story assignment, Jane sees a sex therapist because she's never had an orgasm — thankfully, that's not my story — and returns with a yoni egg planted in her vagina. When it gets stuck, her co-workers Kat and Sutton come to the rescue. The night after the episode aired, two friends who worked with me at Cosmo and four other friends who'd heard my story texted me: This must be inspired by you! It's a strange thing to see one of your most embarrassing and personal moments play out on network television.
***
In 2012, I landed my dream job at Cosmo, where I sat in a slick office on the Upper West Side with panoramic views of Central Park; the mailman delivered packages containing butt plugs and paternity tests. Like Jane on The Bold Type, I felt nervous about how much I was expected to mine my life for story ideas. So when the health editor asked for volunteers to test contraceptives, I thought, Here's a way for me to prove myself.
The email asked: "Do you use condoms, a diaphragm, the NuvaRing? Want to try the sponge?" The sponge! Immediately, I thought of Elaine on Seinfeld, who evaluated men by how "sponge-worthy" they were, and her frenzied search for every last sponge in upper Manhattan when she heard they might be discontinued.
I felt exactly like Jane when she agrees to work on the sex story and says, "I feel like a fraud." Because despite working at a women's magazine that celebrated having the most amazing sex of your life, I was having very little of it myself, and had mostly awkward anecdotes to contribute during our weekly staff meetings. So in an effort to be daring and spontaneous, I decided to go for it and test the sponge. I texted a longtime friend-with-benefits: "Want to be in a Cosmo experiment? … Tonight?"
"Yes!" he texted back immediately. "9 p.m. at mine?"
But at 9:45, I was still waiting for him in the bar across from his place, dressed up and certain he'd stood me up — for casual sex, of all things! Right when I decided to leave, he arrived in a tuxedo. Clearly, he cared less about me than I deserved, but I was a professional and had an assignment to finish. I'd already inserted the sponge in the bathroom of the bar.
Assignment completed. But the next morning at work, there was a problem: No matter how I angled myself in the bathroom stall, I could not get the sponge out. Red-faced, my wrist aching, I walked into Joanna's office and sat on her velvet couch. "It's stuck!" I exclaimed. "The sponge is stuck inside of me!" Her eyes widened and she sprang into action, alerting the social-media team to begin tweeting immediately: "A Cosmo staffer has a sponge stuck inside of her. Any advice?" Joanna beamed at me. "This is gold, Ledgerwood."
In The Bold Type, Jane goes straight to her friends Kat and Sutton, and Kat removes the yoni egg in one of the funniest scenes of the season. It wasn't exactly my story, but it was very close. Unlike Jane, I didn't ask friends to help me pull the sponge out; I ended up needing a doctor. At a CityMD, I explained my predicament to an on-call doctor who looked at me like I'd stuck a sea sponge up there. As he pulled it out in partially disintegrating pieces, my tears came fast, in that way that unlocks other tears — all of them connected to sex and being single in New York, and the energy I'd spent trying to convince the wrong men to love me. I also cried thinking about the last time I had lain quietly in stirrups while a male doctor spoke condescendingly to me, when I terminated an unwanted pregnancy years earlier.
Perhaps that's why, when Joanna Coles and other Cosmo editors encouraged me to look at my own life for story ideas, I was never able to write about that stubborn sponge. Five years after I left Cosmo, I finally had the perspective to tell the story at a New York comedy club, the first time I read my own work in front of a crowd. The process of writing and performing my sponge story revealed the ridiculous things I was willing to do for love, to be desirable, and to impress my peers at work, at a time when I had very little to fall back on. And then a few weeks later, I saw my story on TV.
Joanna and two former Cosmo editors all confirmed the episode is inspired by what happened to me. "We definitely told [the show's executive producer and writer, Sarah Watson] your story," Joanna wrote in an email. "How could we not? It was so essentially Cosmo and so essentially you! And it's happened to so many young women who don't have friends on hand to help them out. The last thing I remember about your situation was someone saying in a soothing voice to you, 'Right now, Angie, you've got to bear down.'"
When I watched The Bold Type, I loved it. Sure, it's a glossy version of life at a women's magazine (I for one did not earn enough money to live without constant financial anxiety; my life looked far more like Broad City outside of work), but the show does capture the best of Cosmo. I cried several times because it reflected who I was in those days — hopeful and desperate to impress Joanna, whom I loved.
I know that writers steal snippets from everywhere — what they hear in the street, from the people they love and live with, it's all up for grabs — but seeing my story on The Bold Type still stung. The incident had been such a turning point for me, and I wanted to be the one to explore and explain it. I'm happy with Jane having her version of it, too, but only as long as there is still room for my mine — for the not-so-glossy, messy, sad, hysterical, and fretful version I experienced.
Joanna was always encouraging me to write a book and write my own stories in the same way her character supports Jane on the show. I think Joanna would be proud that I finally, finally started to use my own voice. I think she'd wink and say, "It's about time, Ledgerwood. Next time, don't let me beat you to it."