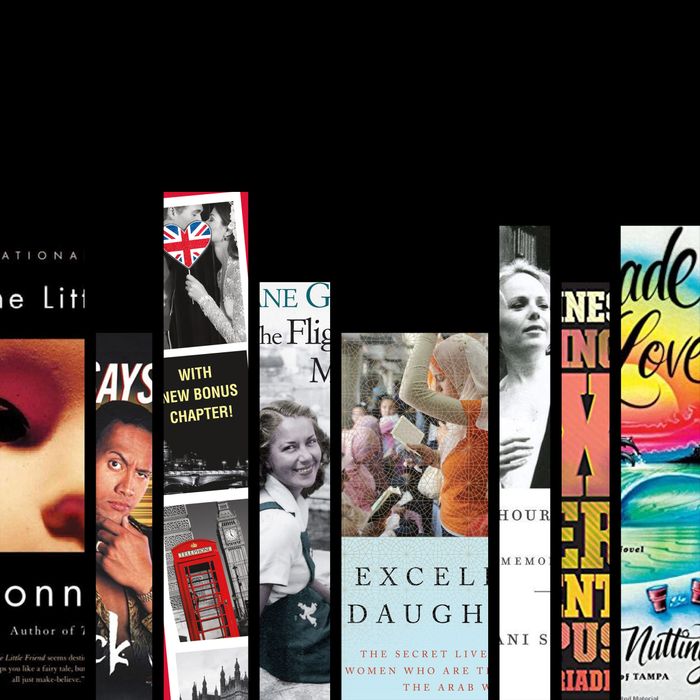 This August, we're reading books by Donna Tartt, Jane Gardam, Alissa Nutting, and Dwayne 'the Rock' Johnson (naturally). Check out all the books we've recommended so far here.
While I was doing research for a story, an expert at the Middle East Institute recommended this book about the changing lives of women living in the Arab world. The author spent a decade reporting in Syria, Iraq, and Lebanon, and the book deftly weaves together stories about the rich inner lives of the women she encountered. I love the variety of perspectives it provides, from conversations with women's rights activists in Saudi Arabia to conservative Qu'ran teachers living in Syria before the civil war. —Jessica Roy, news editor
This book is basically a fictionalized account of Kate Middleton and Prince William's courtship, only the protagonist is American and prone to making bad decisions. Written by the Fug Girls, it's a witty, smart, and fun read. I brought it with me on a recent vacation, and it was the perfect book for sitting by the pool as I tried to get my mind off of everything going on in the world. —Lisa Ryan, staff writer
My parents have been married for 30 years, and for the majority of my time knowing them, I thought I knew how to identify struggle in a relationship: It sounded like fighting about poor communication, it looked like taking different cars to a family party, and it smelled like a semi-annual cigarette, the ultimate sign my mother was stressed. But as I got older, I realized marriage is so much more complicated than that. Hourglass addresses intimate memories that warp and shape the author's 18-year marriage, from diary entries recalling club sandwiches and sex on their honeymoon, to the present-day cracks that form in her relationship that make her question if she even knows her husband at all. —Emily Sundberg, Instagram editor
I'm reading the Rock's memoir, which he wrote in 2000 with Joe Layden, and I swear, it's extremely good, if only because it shows how freakishly consistent of a personality he has been throughout his career. My favorite line: "Incidentally, there is nothing The Rock finds more offensive than racism … but more on that later." —Dayna Evans, senior writer
Yes, this is the book whose cover you probably saw all over your Instagram feed this summer. It involves, to name just a few things: two ultrarealistic sex dolls, a woman plagued by her nefarious tech CEO husband, and a grizzled Florida man named Liver who never wears a shirt. It's quick, funny, and weird in all the best ways. —Gabriella Paiella, senior writer
Having recently extolled the virtues of Donna Tartt's debut, The Secret History, I decided it was finally time to take a spin with her second book, The Little Friend, a suspenseful Southern Gothic tale about a 12-year-old Mississippian girl, Harriet Dufresne, haunted by the horrific murder of her brother when she was just a baby and determined to find his killer. While it explores a very different social milieu — the segregated, clannish, history-rich world of the small-town American South — the book shares The Secret History's evocative language, rich eye for detail, and penchant for dark themes, immersing us in Harriet's loss of innocence as she plunges into a dark world of crime and retribution. —Anna Silman, senior culture writer
I had never read any of Jane Gardam's books before, but as soon as I finished this one, I immediately bought two more. Set in England in 1946, Flight follows three teenage girls as they try to navigate their families, friends, and romances the summer before they go to college. It's by turns funny, frustrating, and devastating, and Gardam perfectly captures the excitement and terror of that murky period between adolescence and adulthood, as well as the beautiful, complicated relationship between mothers and daughters. —Madeleine Aggeler, night blogger
This book is so well-done that I found myself really excited to sit on a beach, and read about sexual assault on campus. (The book is an outgrowth of Grigoriadis' New York cover story on Emma Sulkowicz, and dives into the murky waters of college sex, sexual assault, hookups, and everything in between.) The writing — honed over years at this magazine, as well as Rolling Stone, Vanity Fair, and the New York Times Magazine — is so vivid, you just want to keep hanging out with her on the page and listen to what she's thinking about. But what's most refreshing is that Grigoriadis isn't afraid to untangle the hairball that is college sex, even though someone — whether it's the hardcore feminists or the Men's Rights bros — will rip apart any idea that falls outside of party lines. Yet Grigoriadis dives in because, as she says in the book, she believes that to actually understand why there are so many reports of sexual assault on campus, you have to actually, explicitly, and finally, figure out what is going on in these bedrooms, and talk it about it candidly. —Katie Van Syckle, weekend editor.
If you buy something through our links, New York may earn an affiliate commission.