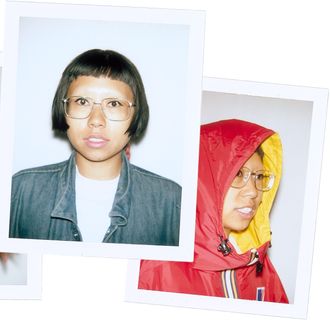 Left: Kanako Takase wears own jacket and glasses; Center: Takase wears own jacket and glasses; Right: Kanako wears Dsquared2 x K-Way anorak.
Photo: Lucas Michael. Photo Editor: Biel Parklee.
Tokyo-born Kanako Takase moved to New York at the ripe age of 19 and began working for legendary makeup artist Pat McGrath. Fast-forward 12 years, and she's worked with Rick Owens, Saint Laurent, and Eckhaus Latta, and been named to the Dazed 100. Her specialty may be avant-garde beauty (just look at her splatter-paint makeup for Eckhaus fall 2017), but she also once prepped Blake Lively for a Vogue cover alongside Mario Testino and Tonne Goodman (her boss couldn't make it that day, she told Into the Gloss). Read on for her answers to our lightning-round questions.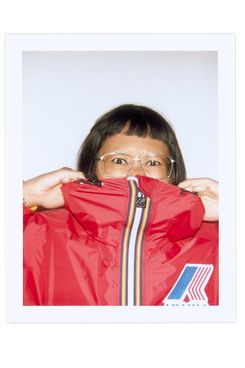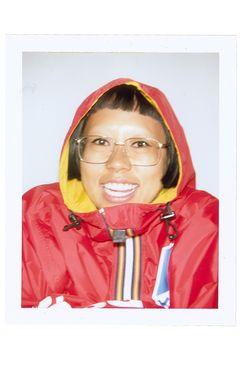 If you could be a magazine, what magazine would you be? Since I came to New York, I became more into Japan, and I really like Japanese kitchenware and home goods. So I'd be a magazine where I could find the traditional stuff — I like those kinds of magazines.
If you could speak to animals, which animals would you want to talk to? Birds. I want to know how it feels, flying.
Sneakers or slippers? Slippers.
What's something your social-media followers don't know about you? I'm very shy.
What was the last website you looked at? I Googled how to kill smelly hairs.
If you could be outfitted by one designer for the rest of your life, whom would it be? Marc Jacobs.
What time is your alarm set for in the morning? 7 a.m.
What do you eat for breakfast? Rice and miso soup.
If you had only three things you could eat for the rest of your life, what would they be? Onion, garlic, rice.
Fuck/Marry/Kill? Oh, I can't.
If you could tell Donald Trump one thing and make sure he would listen, what would it be? Don't make war happen.
If you were a color, what color would you be? Red.
Kanako Takase wears DSquared2 x K-Way anorak, $515 at DSquared2.