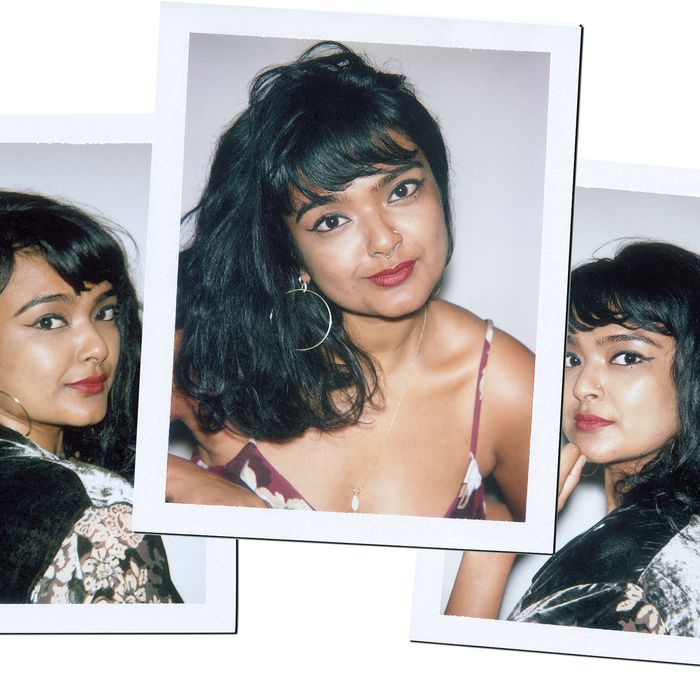 Left: Tanwi Nandini Islam wears The Kooples velvet robe, Spinelli Kilcollin earrings; Center: Islam wears own clothes, jewelry, and Spinelli Kilcollin earrings; Right: Islam wears The Kooples velvet robe.
Photo: Lucas Michael. Photo Editor: Biel Parklee.
A lot of She Seems Cool interviewees are multi-hyphenates. But Tanwi Nandini Islam's résumé is probably the most diverse. Before writing her novel, Bright Lines, and launching her beauty and perfume line, Hi Wildflower Botanica, she worked as a tarot card reader, a teaching artist, and a hotel employee.
"Right now, I'm doing two things I'm really passionate about simultaneously," Islam said. "But I've done the New York hustle of having a bunch of random jobs trying to cobble together my life."
Read on for her answers to our lightning-round questions.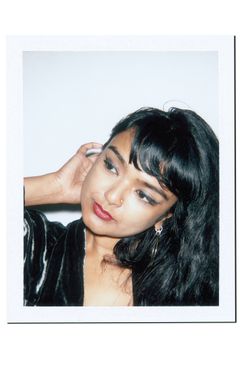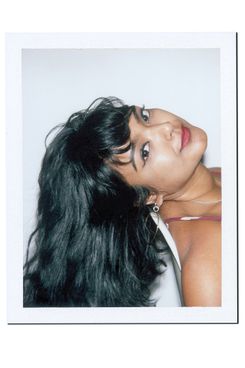 If you could speak to animals, which animals would you want to talk to? Definitely a tigress; that's my spirit animal, in a sense. They're huge and solitary creatures and just awesome.
Sneakers or slippers? Adidas slides — that's a slipper, technically.
What's something your social-media followers don't know about you? I kind of feel like, from my DMs, maybe my age. I'm like uh, honey, I'm way older than you. And I wear pink aviator Coke-bottle glasses when I'm working from home.
What was the last website you looked at? I looked at Instagram and Twitter this morning.
If you could be outfitted by one designer for the rest of your life, whom would it be? So it's kind of a toss-up. Part of me wants to go with a fragrance designer. In terms of fragrance, Serge Lutens. In terms of clothes, vintage YSL.
What time is your alarm set for in the morning? I just let myself wake up. I put it in my brain when I need to wake up. My mental alarm is set around 8:30.
What do you eat for breakfast? I don't eat anything, but I drink coffee. I fast in the morning, intermittent fasting. I don't know if that's healthy, but I just can't eat breakfast.
If you had only three things you could eat for the rest of your life what would they be? Pizza is definitely on the list, then let's throw in a salad — a Greek salad. My last thing would probably have to be coffee. Coffee, pizza, and salad.
Fuck/Marry/Kill? I'm in the Game of Thrones zone right now, so I'll just take it. Fuck, the prince that got his eyes taken out, Oberyn Martel. Marry Peter Dinklage; he and I would work really well together as a partnership. Kill Cersei — she needs to be taken out. I don't know if it's the real-life people or the characters, but that's where my mind goes watching the show.
Person you wouldn't mind being trapped in an elevator with? My partner, my boyfriend. He's the best, and it's funny — when you find that person, you're endlessly interesting to that person. He's also gonna get us out.
If you could tell Donald Trump one thing and make sure he would listen, what would it be? I would just encourage him to eat the most unhealthy food and not go to the doctor. Just keep eating fried butter. What can I honestly say to the guy that would actually sink in? You're killing my people in the world, please exit. Get out of here.
If you were a color, what color would you be? Oh my god, purple. It's the color of my soul.
Tanwi Nandini Islam wears The Kooples velvet robe, $575 at The Kooples, 115 Mercer Street, 212-219-05015; Spinelli Kilcollin Altaire yellow gold and diamond hoops, $4,600 at Spinelli Kilcollin.