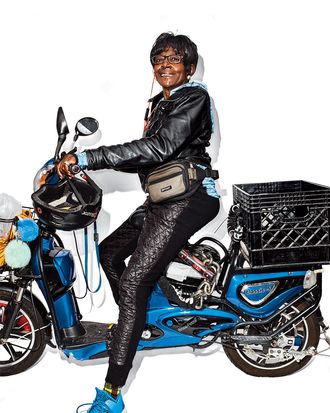 "I get so many people stopping me, and they say, 'Look at Grandma, coming through on her bike!' "
Photo: Bobby Doherty/New York Magazine
Lucille Harris, Retired
Nice bike!
When I saw someone else riding an electric bike a few years ago, I thought, I have to have this. My three sons said I'd get hurt, and yes, I had a couple of falls in the beginning. But now I'm riding almost every day and doing fine. I get so many people stopping me, and they say, "Look at Grandma, coming through on her bike!" I put my Pomeranian, Simba, in the back, and we just ride around all day between my apartment and where my sisters live. I'm one of 11 kids, and four of my sisters live in Manhattan.
Where do you live?
In the Bronx with my three sons — I had them when I was very young, my first when I was 15, and now all three of them are in their 50s. We have dinner together, the four of us, most nights.
What do you talk about?
We talk about my day riding around the city. They always ask me, "What happened today on the bike, Ma?"
Lightning Round
Age: 70.
Born in: Queens. "I've lived in all five boroughs, even Staten Island!"
Favorite place to bike: Marcus Garvey Park.
Favorite TV show: Maury.
Romantic partner? "I'm not romantic these days, no ma'am."
Former job: "I was a certified nurse assistant."
Church: Mother AME Zion Church.
*This article appears in the September 18, 2017, issue of New York Magazine.