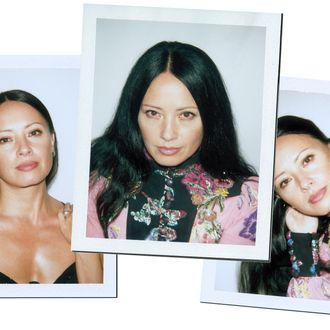 Left: Choichung Leung wears own dress and jewelry; Center: Leung wears Gucci; Right: Leung wears Gucci.
Photo: Lucas Michael. Photo Editor: Biel Parklee.
Talking to Choichun Leung is like listening to a mediation app. An artist whose work addresses patriarchal structures, she speaks in a soothing Welsh accent — despite having lived all over the world. Leung lived in Beijing, London, and Germany, perfecting her craft, before settling in Brooklyn with her daughter, model Sahara Lin. (You might recognize both mother and daughter from this Proenza Schouler "PS I Love You" video.) Read on for her answers to our lightning-round questions.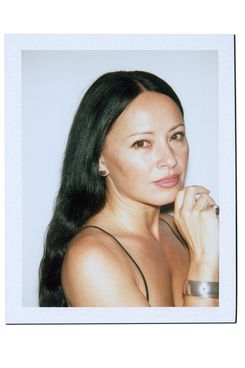 If you could be a magazine, what magazine would you be? National Geographic, I guess.
If you could speak to animals, which animals would you want to talk to? A horse.
Sneakers or slippers? Sneakers.
What's something your social-media followers don't know about you? Everything.
What was the last website you looked at? I was looking at a gemology website. They had this whole section on how to recognize good gems. I was just getting into it. Sometimes I want to learn more about certain stones in my jewelry.
If you could be outfitted by one designer for the rest of your life, whom would it be? I have no clue. I have no designer that I follow that much. I like vintage pieces. I'd just like to have access to old pieces.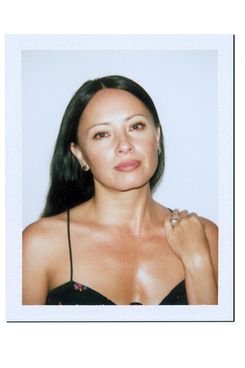 What time is your alarm set for in the morning? Usually about 8:30.
What do you eat for breakfast?  A boiled egg or a fried egg.
If you had only three things you could eat for the rest of your life what would they be? Fruits, nuts, and vegetables. That's pretty much what I eat now. I always say my daughter was made of apricots and figs cause I was constantly eating those two things.
Fuck/Marry/Kill? Marry: not into marriage. Fuck: they'd be the only one to know. Kill: It would only be someone who threatened my daughter.
Person you wouldn't mind being trapped in an elevator with? My daughter, Sahara.
If you could tell Donald Trump one thing and make sure he would listen, what would it be? The world goes on past your golden gates.
If you were a color, what color would you be? A turquoise blue.
Choichun Leung wears Gucci Pink-multicolor flower garden fil coupé long sleeve high neck dress, $9,980 at Gucci.