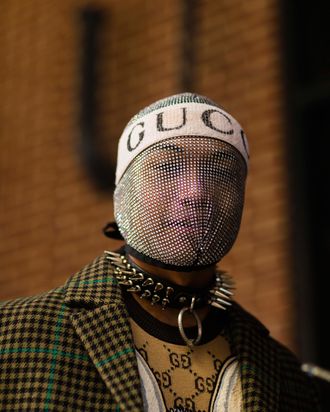 Ralph Macabitas of Huesofman.
Photo: Nabile Quenum. Photo Editor: Biel Parklee.
Rihanna isn't the only person who can pull off the face mask from Gucci's fall 2017 collection. Yesterday, fashion blogger Ralph Macabitas of Huesofman nailed the same look on the second day of New York Fashion Week street style.
At Coachella last spring, Rihanna wore sparkly glasses over the sheer hood with a bodysuit and a T-shirt. Macabitas made the runway/Rihanna look his own, pairing it with a spiky choker and a yellow (you guessed it, Gucci) sweater for a personal spin on one of the most Instagrammed looks of the fall 2017 season. Instead of a full-morph suit, he added a Gucci sweatband across the top. Congratulations to Ralph, winner of today's Golden Peacock Award.