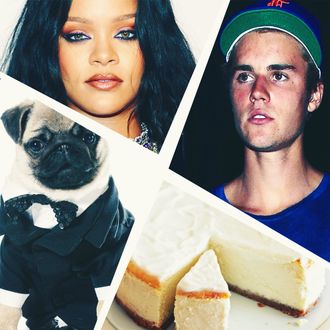 Every week brings such an overwhelming onslaught of news, that sometimes the most entertaining bits can fall through the cracks. Here, we'll recap the pettiest squabbles, juiciest feuds, and other niche drama you didn't know you were living for.
The Pug Tuxedo Fiasco
The first rule of having access to the office credit card is: Don't use the office credit card to buy stuff for yourself. Even if it's a tuxedo for your pet pug. Especially if it's a tuxedo for your pet pug? Just let the story of Kristi Goss serve as your cautionary tale.
While Goss was an administrative assistant to a county official in Arkansas, she used public funds to buy $200,000 worth of stuff, including, the Associated Press reports, "a diamond bracelet, tickets to Arkansas Razorbacks sporting events, sequined throw pillows and pet insurance." Also, yes, a dog tuxedo for her pet pug. She pleaded guilty on Monday, while her pet pug also pleaded guilty … of being adorable.
The BBC Cheesecake Fight
Between the Trump administration's attack on the press and the industry's declining ad revenue, journalists are under a lot of pressure these days. That's why we completely sympathize with the extremely dramatic feud sparked by a stolen cheesecake that went down this week in the BBC newsroom.
The BBC is headquartered in London, so we highly doubt it was real New York cheesecake anyway.
The Derek Jeter Endorsement That Wasn't
When you're running for city council in New York, it's understandable why you'd want to collect endorsements from NYC icons to boost your chances at the polls. Pat Kiernan is a good get, for example, or Pizza Rat. Unfortunately for Democratic candidate Ronnie Cho, he had to learn the hard way that it's common practice to ask famous New Yorkers for endorsements before announcing them. Cho was embarrassed on Tuesday when former New York Yankee Derek Jeter backtracked on a statement he gave about Cho "making a real difference" to say, hey — this doesn't mean I actually endorse him! Officially or unofficially, that non-endorsement made the difference: Cho won the race. Next time, try asking Mr. Met for an endorsement? He seems nice.
Fenty Beauty Fans vs. Kylie Cosmetics
This week, Rihanna finally released her Fenty Beauty collection with a line of foundation that comes in 40 different shades and a lip gloss that's supposed to match any skin tone. And after Kylie Cosmetics posted an ill-timed tweet hawking their only nude lip color for darker skin tones, Rihanna fans promptly fired back, dragging Kylie Jenner for the lack of inclusivity her line offers.
Kylie deleted her original tweet.
Justin Bieber vs. Marilyn Manson
Here's a feud we should've seen coming when Justin Bieber decided to make his tour shirt uh … a Marilyn Manson shirt. In a Consequence of Sound interview, Manson claims that when he met Bieber for the first time, the pint-sized Canadian pop star decided to tell him, "I made you relevant again." Manson did not take it well, and says he eventually got cash for the ripoff T-shirt sales. "He was a real piece of shit in the way he had the arrogance to say that," the shock-rocker continued. Don't worry, Marilyn. Your auto-fellatio rumor will always be relevant.
Fyre Festival 2.0 … But With Pizza
Although we've all tried to learn some lessons from the Fyre Festival, sometimes the things you love the most can betray you in the worst ways. Yes, even pizza. Attendees to the New York City Pizza Festival paid up to $75 per ticket to, uh, get scammed.
Upwards of 30,000 pizza lovers were expected at what organizers promised would be a "day long celebration" of pizza from more than 30 vendors. But attendees complain that in the end, they got "about 5 pies" worth of "really bad pizza" that was "cut into micro slices."
Pro tip: Next time, just order $75 worth of pizza.
Catch up on previous drama here.