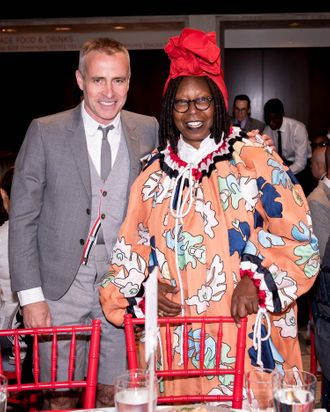 Thom Browne and Whoopi Goldberg.
Photo: Zach Hilty/BFA.com
On the first day of New York Fashion Week Wednesday morning, the Couture Council of the Museum at FIT honored designer Thom Browne with its annual award for Artistry of Fashion. Though Browne recently left New York to show in Paris, the Council confirmed that his imaginative spirit is ever-present.
Those in attendance for the awards luncheon at the Lincoln Center included some of Browne's biggest fans: Brooke Shields, Martha Stewart, and Whoopi Goldberg, who presented Browne with the award in a voluminous pool-party look from the designer's spring 2017 collection.
"This man brings joy. He brings innovation. He brings the idea that you must be an individual and that you must stand for something," said Goldberg in her speech. "I am here because you inspire."
Browne accepted his award with a humble smile. "You have now given me the responsibility to live up to this award," he said, referencing past recipients, including Manolo Blahnik, Oscar de la Renta, Karl Lagerfeld, and Dries Van Noten. "I hope I do not disappoint."