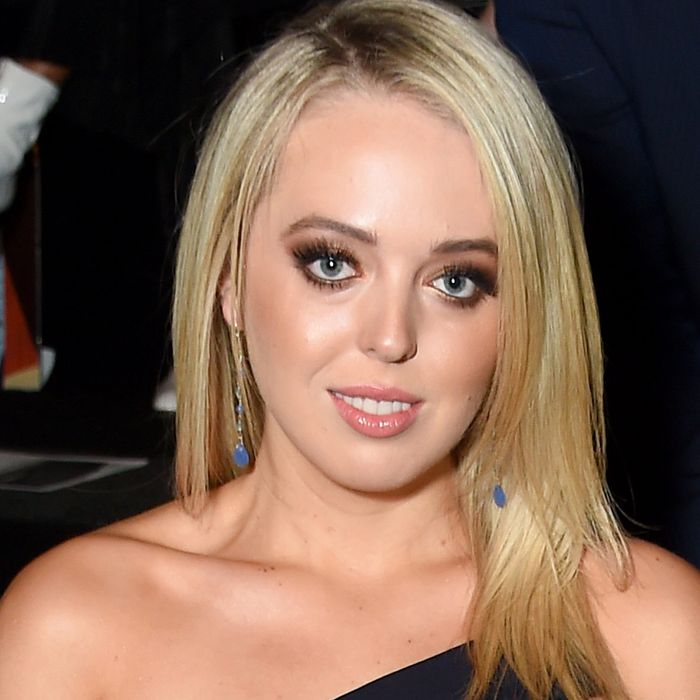 Tiffany Trump.
Photo: Nicholas Hunt/Getty Images For NYFW: The Shows
Now that New York Fashion Week is over, jewelry designer Tiffany Trump is back to focusing on her law-school studies. In fact, she was spotted on Wednesday at a lecture for first-year law students at Georgetown — given by Supreme Court Justice Ruth Bader Ginsburg.
Ginsburg spoke to Georgetown's first-year law students about an array of legal issues, including the challenges of being a woman in the legal field (and at one point, the Justice even referred to herself as a "flaming feminist litigator"). The lecture was broadcast on C-Span – and midway through, the camera panned to Tiffany, who was wearing a gold headband and seemed to be listening attentively (while the guy sitting next to her had his eyes shut).
As the Washington Post points out, Tiffany's attendance at the lecture was a bit surprising, given that Ginsburg famously called her dad a "faker" during the election (which prompted Donald Trump to tweet, "Her mind is shot — resign!"). We can only hope RBG taught Tiffany a few things about the law that she can pass on to her dad.