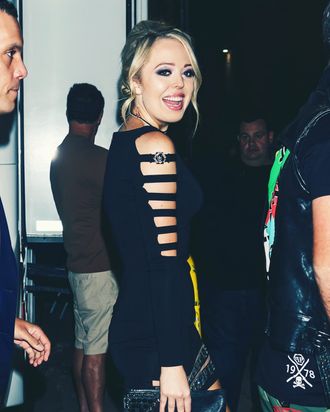 Tiffany Trump arrives at the Philipp Plein show.
Photo: Gilbert Carrasquillo/GC Images
Last night, First Daughter and first-year Georgetown law student Tiffany Trump had an enviable front row seat at Phillipp Plein's New York Fashion Week show, held at Hammerstein Ballroom in Manhattan.
When Trump attended Plein's fall 2017 show last February, weeks after the presidential inauguration, the designer's guests were reportedly less than pleased to see her. Some editors immediately left, while others requested seat changes shortly after her arrival. This season was different. As she took her seat and gushed to me about Plein, no one even seemed to notice she was there.
"Phil is an amazing designer," she said. "He always has a way to incorporate himself and do what he wants to do, and doesn't succumb to the typical guidelines of what he should do, and I am very happy to be here."
Trump denied reports about her trying and failing to get into the Harper's Bazaar Icons party, after her publicist apparently emailed the wrong literary Harper's Magazine — and not the fashion magazine.
"Not true," she said. "I honestly don't know the details of it. Honestly, I'm here, I'm trying to do work the entire weekend, and I'm trying to fit in what I can do. From my point of view I don't know anything about it."
She said she plans to hit a few more shows, but admitted she should really be studying for her classes at Georgetown Law School. "I can't go to many shows. I'm in law school now, so realistically I have a lot of work to do," she said. "I am going to a couple places where I know the designers personally, and supporting them." Yesterday, she was also spotted at Taoray Wang.
After Philipp Plein's insane spectacle of a runway show — which included Dita von Teese jumping into a martini glass, strippers hanging on scaffolding, and a dance set by Teyana Taylor — the First Daughter stayed late into the night for the after-party. A raised stage inside the venue was turned into a pop-up version of Leonardo DiCaprio's favorite club, 1Oak, complete with tables, couches, and bottle service. Trump camped out on one of the couches and danced in her seat, as Secret Service agents nervously looked on.