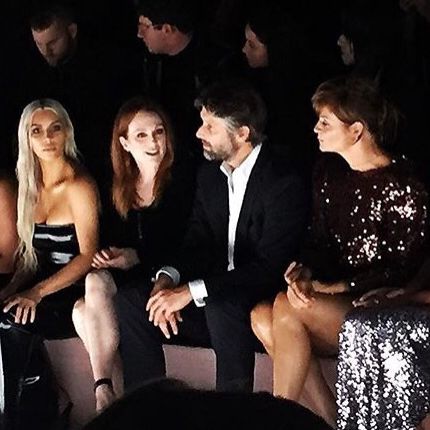 Ciara, Kim Kardashian, Julianne Moore, Helena Christensen, and Eva Mendez in the front row at Tom Ford.
Photo: Instagram/@tashonfash
Cindy Crawford, Julianne Moore, Karlie Kloss, Helena Christensen, Liev Shreiber, and Chaka Khan were among the eclectic group of celebrities kicking off Fashion Week in the front row of the Tom Ford show at the Park Avenue Armory on Wednesday night.
Kim Kardashian was there, too, in a body-hugging dress, fresh from the announcement of she and Kanye West's third child (via surrogate) is a girl.
The show featured sharp power shoulders and sequins, French-cut bodysuits layered under pants, and an evening finale of ruched fitted gowns in nude, pink, and black.
But, of course, nothing topped Chaka Khan's fan.