Welcome to Extremes, a series examining the outer edges of style.
There are arguably no two brands further apart on America's fashion spectrum right now than Tommy Hilfiger and Eckhaus Latta. Hilfiger is well-established in the mainstream consciousness, while Eckhaus Latta is quietly questioning the establishment. Hilfiger's current muse is Gigi Hadid and his logo riffs on the American flag; Eckhaus Latta consistently casts I Love Dick actress India Salvor Menuez and keeps its branding minimal. Hilfiger's runway extravaganzas have included Instagram pits, carnival rides, and on Tuesday, a rock and roll circus. This season, Eckhaus Latta showed on a dead-end street in Bushwick, Brooklyn.
With the state of the American fashion industry in such flux, we thought the best way to understand how it started, what it is now, and where it's headed would be to get two polar-opposite designers in the same room for a discussion about how they're building their brands. Even if they didn't have anything in common besides having the Kardashians as clients, they'd at least have something to talk about.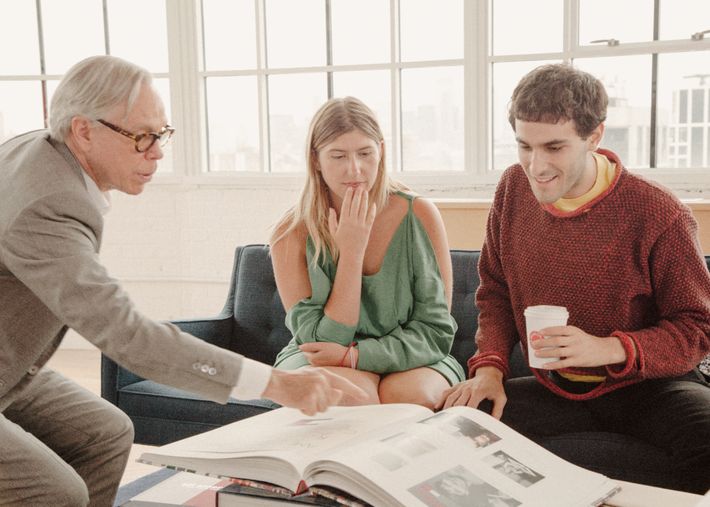 As Elizabeth Hilfiger will tell you, though, the two actually overlap more than you'd expect. She should know: In addition to being Tommy Hilfiger's daughter, she interned for Eckhaus Latta as a pattern-maker after graduating from RISD — which Eckhaus and Latta also attended — in 2015. I learned this while interviewing Hilfiger back in April for the launch of her own brand, Foo and Foo, (the nickname her father gave her as a child). So I emailed her to get her perspective.
"Both as designers and business people, they respect the simplicity of American style and respond to the culture of the people in their own way," she responded. And it's true: They both love a good pair of jeans and a T-shirt, and combine New York and Los Angeles sensibilities. They've also each cultivated their own strong communities over the years. Tommy Hilfiger embraced Snoop Dogg and Destiny's Child in the '90s, and the Chainsmokers and Instagram influencers today, while Eckhaus Latta hosts a more indie crew, including Dev Hynes, Kim Gordon, and Hari Nef.
Hilfiger was indie, once, too. He started his career in 1969 with the People's Place, a hippie vintage shop for college students in Elmira, New York, which he stocked with bell-bottom jeans from St. Marks Place that were not dissimilar to the denim Eckhaus Latta sells today. And while Hilfiger doesn't have any plans to show models having actual sex in his campaigns like Eckhaus Latta did this year, he did make bold statements with his early billboards, eventually earning the title of the "Bad, bad boy of Seventh Avenue."
Both brands are having big years. The spring 2018 Eckhaus Latta show proved that they've not only established a strong base, but are also continuing to grow. And Tommy Hilfiger is still doing billions of dollars in global retail sales. (He was also approached by the über-cool brand Vetements to collaborate on fall items.) Below, the designers compare and contrast how they've made it this far.
Emilia Petrarca: Let's start from the beginning. Tommy, you launched your career with $150 in your pocket. What are some things that you wish you had known? Is there a difference between starting a brand then, and starting a brand now?
Tommy Hilfiger: When we started, I wasn't starting a brand; I was starting a store. I was 18 years old and it was 1969, the same year as Woodstock, and I was obsessed with music, musicians, and what they were wearing. So I opened a small shop. I started selling bell-bottom, high-waisted jeans and cropped sweaters; beads and hippie-type clothing. And then I decided to create my own brand.
Zoe Latta: You were buying the clothes and selling them?
TH: I was buying clothes from other people and selling them. Then I started designing my own for my stores, and I thought: Well this is a lot of fun. This is cool. I should start my own brand.
ME: Was it called Tommy Hilfiger?
TH: The People's Place.
ZL:  That's such a good name.
TH: I want to show you the logo.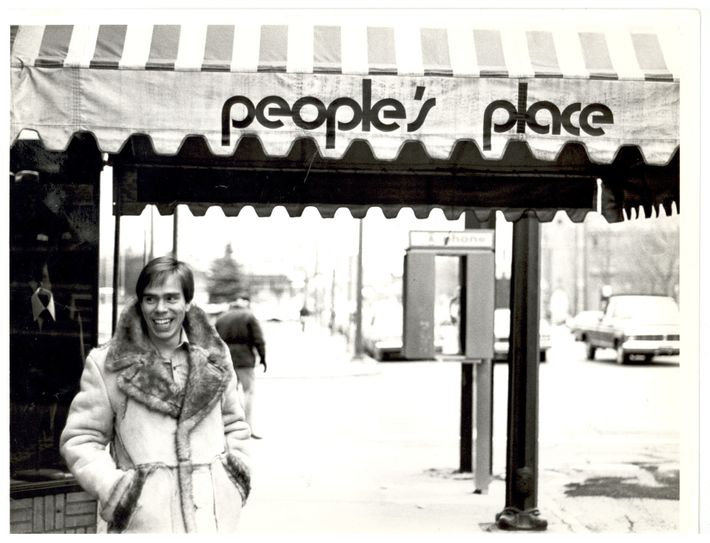 When you're building a brand, how important is the logo?
ME: Your logo is so iconic.
ZL: And you have a lot of different iterations of it. Your name is recognizable in a lot of different typefaces.
ME: When you see them, you're immediately like, That's Tommy Hilfiger. Whereas I feel like for Eckhaus Latta, we've never really explored that space so much.
TH: Can I see it? Can I see your logo?
ZL: Yeah. Do you have your phone?
ME: My phone? I think it's on the back of my shirt. [Turns around to show the tag.]
TH: Okay, so that's really your label?
ME: It's our label, yeah. We don't have, like, a "logo."
TH: Do you have a symbol?
ME: No, we don't have a symbol.
TH: I think you should. I think that's something you should develop with each other.
Why do you think that they should have a logo?
TH: I think having a logo has really, really helped me tremendously. If you look at all the top brands in the world, whether it's Mercedes-Benz, Chanel, or Gucci, they have a symbol of some sort.
ME: At what point in time did that develop for you?
TH: The very beginning. My name was in the flag, and then I saw Nike take their name off the Swoosh, and I thought: Wow. Someday I would like to be able to do that — take my name off my flag and have people still recognize the flag. I think it was 1995 or 1996 that I finally took my name off the flag. And now I think people recognize it worldwide. It's the best asset.

So, you have your logo. How do you expand from there? How do you build an identity? And is that something you even want for Eckhaus Latta?
ME: We've never been so "strategic" about what Eckhaus Latta means or how it can be symbolized. It's been very much an organic process of us relating to circumstances in our life and the context of the world in which we're working. We're responding to people and gestures and things in a way that isn't so much, This is how we think Eckhaus Latta should be. I think we're understanding that more, though, with time and experience.
ZL: Tommy would be better at answering the question of whether it's necessary for success. [Laughs.] But at the same time, I think, as Mike said, our brand identity has been a very direct response to a time and place, just as Tommy's first store was a response to Woodstock.
How do you make a statement as a brand then? The Eckhaus Latta campaigns, for example, are getting a lot of attention.
TH: Well, first of all, let me say that what they are doing today is not dissimilar to what Calvin Klein did in the late '70s and '80s. He established his brand first through having great products, but then by doing what they called at the time "controversial advertising." I also launched Tommy Hilfiger with a controversial campaign. Now, we use a different word; we say disruptive. And I think you've been disruptive with your campaigns and with your outlook on who you dress and how you do your shows. It's a modern approach. My advice to you though would be to make sure the clothes are always great, because if you take away the campaigns, take away the name and everything else, the clothes have to stand alone.
ME: I couldn't agree more.
ZL: Can we ask what your first disruptive campaign was?
TH: Yeah. I did what they call the "Hangman" campaign. Can somebody open the big book?
The big book!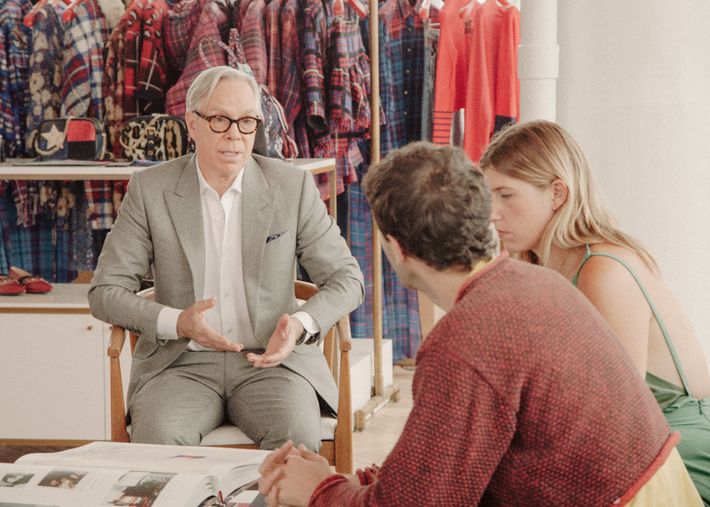 TH: So, this guy George Lois, an advertising genius, he developed this "4 Great American Designers" campaign with my name listed under Ralph Lauren, Perry Ellis, and Calvin Klein.
ME: That's awesome.
TH: Everybody said, "Who is this?" Because I just was completely unknown. The fashion world was in an uproar: Who the hell does he think he is? How could he think he's being talked about in the same breath as the greats?
ZL: That's amazing.
TH: There was a billboard in Times Square, so that established the name recognition in the industry. And then everyone started going to my small shop on Columbus Avenue, thinking, Well, you know, maybe the clothes aren't too bad. I think you have to rise above the clutter, because there's a lot of sameness; a lot of competition and a lot of brands. You've got to do something different and disrupt it, which is what we've done.
ME: Yeah.
TH: But yours is very organic, as well. And I'm thinking in today's day and age, the story has to be very believable or authentic, and I think that's what you did.
ME: Yeah, I think it's been just a natural process for us. When we did the first campaign, it was never the sort of thing we thought was going to be as picked up or cared for as it was.
ZL: I mean, we called it a "campaign" when we put it on Instagram and in a couple magazines, but nothing that was really that well-distributed. There was no billboard or anything like that. We learned that if you call something a campaign, it is a campaign. Even though it's just a word, people receive it differently than just photos.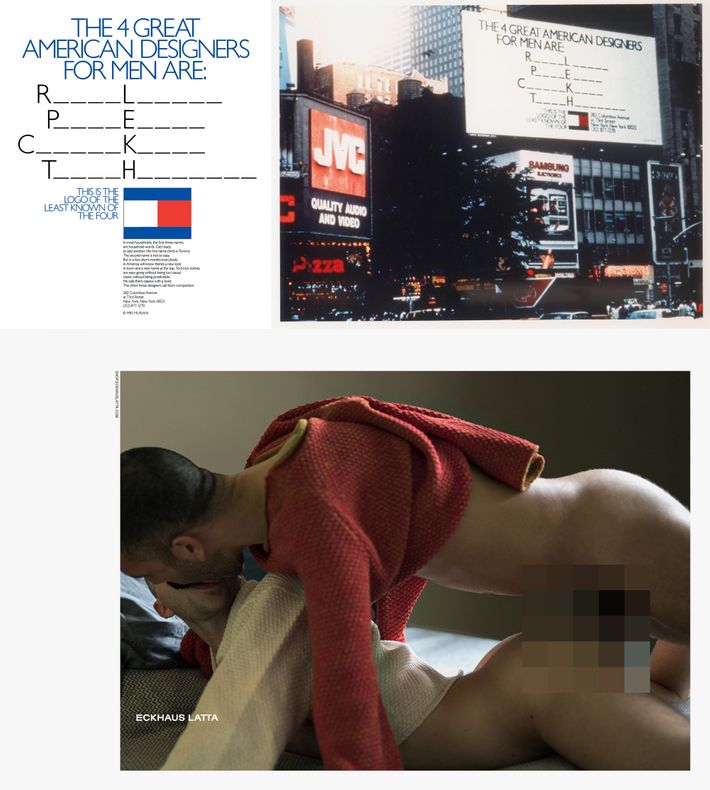 Is there anything that you'd like to ask each other?
ZL: Well, this "Hangman" ad. I can't stop looking at it. Were you first only designing for men?
TH: Yes.
ZL: Interesting.
TH: I was designing for myself. I really couldn't find what I wanted to wear in the early '80s. I was spending a lot of time in L.A. And L.A. was very casual and relaxed, and New York was much more polished and had this whole Japanese thing with Yohji Yamamoto and Comme des Garçons — very black and very minimalist. I grew up wearing preppy clothes, and I really never wanted to go back to wearing preppy clothes. So, I decided to change preppy clothes. I redesigned everything in my closet, from blue button-down oxford shirts, to chino pants; I just redesigned all of the classics. That became disruptive in itself. I made everything oversize and very relaxed, with interesting, unusual details, and washed everything to get rid of the chemicals. And my preppy look then morphed into hip-hop street style, and the brand really exploded in the '90s.
ME: Is there a certain period — because your career has been so expansive and has had such a large impact — that stands out to you and that you cherish?
TH: Well, I loved the beginning because I designed everything myself. I sketched everything; I chose every button, every fabric, every color. I cherish that time period because I was just dreaming about what it could be. I reinvented many times and continue to reinvent. And the reason I reinvent is because I never want to have the brand age too much or grow old. I want to stay relevant to young people. And I know in order to do that we have to reinvent, and we have to be different than the competition. I keep pushing to evolve onward. We're taking our runway show on the road. For years, we only invited press and buyers to the show. Now, we're open to the public. People can look at the runway and click and buy. We deliver either that day or the next.
ME: Wow, that is insane. [Laughs.] Wow. Wild.
TH: Well, we've been in business for almost 35 years. I think you have a long runway ahead, and I think you've established yourselves as being unique to the industry with your positioning and your look, image, and advertising — that's a huge start. Many people don't understand or don't want to do it. I think you did it from instinct, and that will carry you.
ME: Thank you.
ZL: Thank you.
TH: I like your pants. I would wear those.
ME: We'll get you a pair.
Production Credits:
Photos by Landon Speers
Produced by Biel Parklee