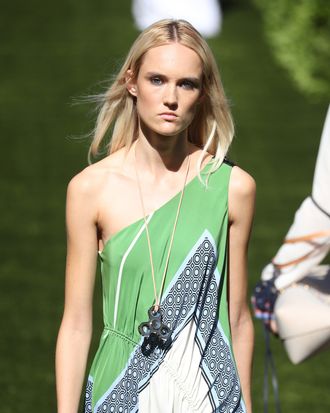 Tory Burch spring 2018.
Photo: Antonio de Moraes Barros Filho/FilmMagic
On Friday morning at the Tory Burch spring 2018 show, a silver fidget spinner glimmered in the sunshine, hanging around the neck of a model as she walked casually down a grassy catwalk.
The prim and proper Tory Burch runway is perhaps the last place one would expect to see a fidget spinner. (It took place in the garden of the Cooper Hewitt, Smithsonian Design Museum where there were literally trimmed hedges.) And the Gen-Z play-toy certainly stood out among a collection inspired by the English interior designer David Hicks, whose past clients include Helena Rubinstein, the Duchess of Rutland, and Mrs. Condé Nast.
The way Burch styled it, however, made a fidget-spinner necklace seem like no big deal at all; a design choice as natural as the now-iconic circular Tory Burch logo, which … wait a minute … actually happens to look a lot like a fidget spinner. Oh my god, did Tory Burch invent fidget spinners?
Tory Burch is a smart lady. Last year, her sales hit $1 billion. She knows what people want, and fidget spinners are the utmost symbol of now: of anxiety, of hype, of the infinite, maddening pinwheel of internet trends.
Fidget spinners are Fashion Week.