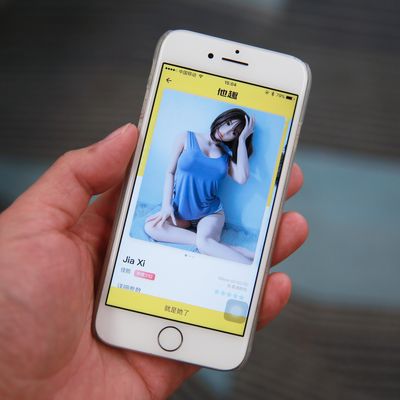 Touch's sex doll sharing service.
Photo: Imaginechina/AP
Bad news for those of us who thought we'd one day get rich by starting a lucrative sex-doll-rental empire: China just banned one such sharing service only four days after its launch.
As the BBC reports, Touch — a Chinese company that recently started renting out sex dolls — withdrew its services shortly after debuting late last week. Touch was offering five different sex-doll options — including a Wonder Woman version and, of course, a nurse — but quickly received criticism and complaints from consumers. According to the South China Morning Sun, some people said the dolls were a "bad influence on society," and the police ended up getting involved. (Okay, but what about the GERMS?) Per the BBC:
The company said in a statement on Weibo it "sincerely apologised for the negative impact" of the concept. But the firm stressed sex was "not vulgar" and said it would keep working towards more people enjoying it.
Touch told the BBC that there had been a ton of interest in its dolls, but, "It's really hard in China" and there had been controversy with the police over the operation. The company also said in an email, "We prepared ten dolls for the trial." The sex dolls were being offered for a daily fee of 298 yuan ($46); Business Insider notes that they normally retail for more than 10,000 yuan ($1,500) each.
Touch said that its goal was to make sex dolls more affordable — and that, in the future, the firm (which also sells sex dolls and sex toys) will work to promote a "healthier and more harmonious sex lifestyle." They should probably also invent a new crazy-strong antiseptic.