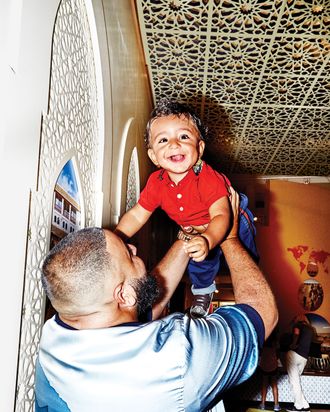 Asahd Khaled with his father.
Photo: Amy Lombard/New York Magazine
It's a muggy, rainy day in August as a driver opens the door to a black Mercedes SUV parked on West 83rd Street. Inside sits the celebrity I'd been tracking obsessively on the internet for most of the summer: I've seen him photographed riding a horse down some Caribbean beach, lounging on a yacht in Miami, on countless red carpets, ringing the bell at the New York Stock Exchange, flirting on Live With Kelly and Ryan. There's a famous collection of photos from the Beatles' first American concert, wild-eyed fan-girls seizing up with the pure joy of getting close to the living thing. I've never quite understood the spasms — until his shining brown eyes meet mine and he flashes me a big, bright gummy smile.
As I try to collect myself, the dreamboat tries to wiggle himself out of his car seat. A generous dribble of drool runs down his chin. He's wearing a tiny tie-dye T-shirt that says "DON. ICON. MOGUL. LEGEND. ASAHD." As in: himself, the Instagram-famous 10-month-old child of hip-hop–Snapchat impresario DJ Khaled and Nicole Tuck (Asahd's momager). I recognize Tuck from watching Asahd's birth on Khaled's Snapchat. She scoops her son up. "Asahd!" she coos. "Say hola!" (Asahd is learning Spanish, she tells me later.) He replies by waving his chubby arm and hiding his face in his mom's neck.
DJ Khaled is perhaps better known as hip-hop's Tony Robbins than as a musician, thanks to the positive energy he likes to exude on his various social-media platforms and in real life. To him, everything is glorious, miraculous content — including his little miracle of life. "God gave me my biggest blessing," he recently marveled in an interview with Entertainment Tonight about Asahd. (It's unclear if he meant simply his son or the new branding possibilities.)
As such, Asahd is probably the first baby to come out of the womb with a perfect Instagram presence, on an account followed by 1.4 million people. His captions are, impressively, at about a first-grade reading level: "Mommy told me she loves me in my overalls lol #mommieslilfarmer." (He's also been 'grammed holding a stack of hundreds that equals more than the contents of my 401[k].) While I'm not sure he has fully developed kneecaps yet, he already has plenty of high-profile projects in the bag. For instance, there's the executive-producer credit on his dad's most recent album, Grateful, for which he was also the cover model. (Khaled went underwater to hold Asahd up so his son could be forever captured luxuriating in a hot tub at 5 months old, Scarface style.) Nicki Minaj, Zac Efron, and Nas have all been photographed with him.
Naturally, Asahd has an entourage: 12 of us walk into the Children's Museum of Manhattan, straight into the museum's executive director's office on the fourth floor, which will serve as the greenroom for the day. Our playdate is a chance for multiplatform content, so first things first: the outfit.
"I was a wardrobe stylist in former years," Tuck explains in a husky New York accent. "Everything has to match." And everything does: The red accents of Asahd's Gucci sneakers go with the red Gucci polo and the tiny red Nike socks. Asahd's neck chain, obviously, matches everything. Asahd is also a bit of a fashion icon. He's been photographed in more than one custom Gucci suit, meant to coordinate with Khaled's. His style — and baby belly — is a miniature version of his dad's South Beach flash.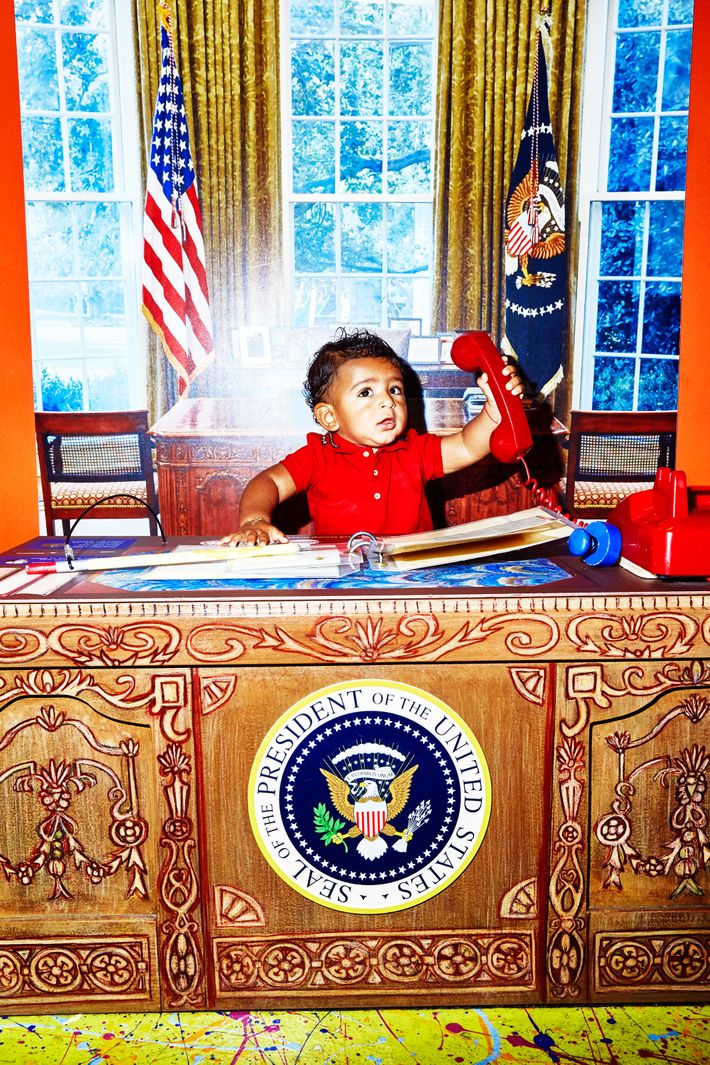 Once he's dressed, giraffe binky dangling from his mouth like one more piece of bling, it's time to tour the museum, along with Asahd's father, a late arrival with his own entourage in tow. We head — all of us, publicists, friends, a reporter from Forbes, a few flat-brimmed-hat dudes with no obvious tasks — to a replica Oval Office desk, which is naturally the museum's most Instagrammed spot. Two staffers are blocking other children from approaching the tiny replica of the president's desk, where Asahd is happily seated with cameras flashing. Two little girls keep saying, "Excuse me. I'd like a turn."
Across from the president's desk, there's a huge fake dollar bill with a hole cut out for people to take photos. Asahd reaches for it, indicating that he would like to pose with the giant dollar. While he's cheesing, a non-celebrity child approaches. She, too, would like to pose in the dollar. She's instructed to wait a little longer and, instead, puts her head in a penny cutout so her mother can take a photo of her. These other babies don't know who Asahd is, but they will probably always remember the feeling of being forced to be a penny while some other child got to be a dollar bill all afternoon.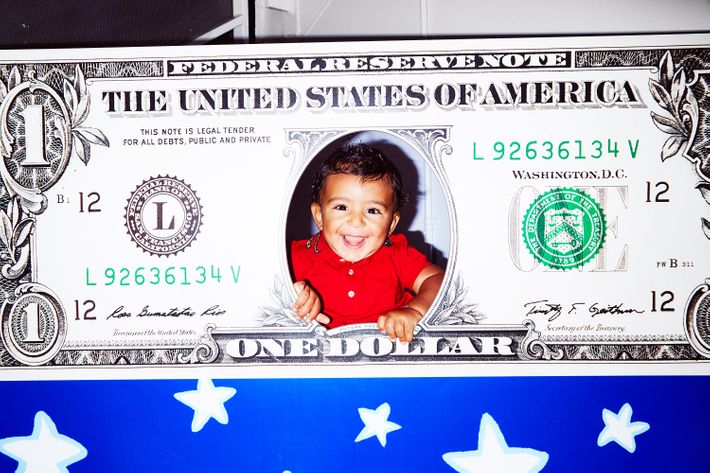 I begin to wonder if celebrity babies — Saint West, Blue Ivy Carter — are just genetically different from other babies. At the very least, they're different from other famous people. They contain the purest, most concentrated part of celebrity appeal: abundant swag, pleasing aesthetics. They offer a never-ending stream of miniature fancy clothes and adorable moments, but they're still decades away from releasing a horrible diss track or doing something problematic on Twitter.
It helps that Asahd, in particular, is an obscenely attractive baby — golden skin, big brown eyes, long lashes, a habit of sucking on the right bottom lip. His whole face crinkles like an old man when he smiles. Every ten minutes, Khaled will stop everyone and say "Perhapppsss! Perrrrrhappsss!" just to get Asahd to laugh uncontrollably. An adult man stops to tell Asahd his son had the same pacifier, and as he walks away I hear him say that the encounter was "the coolest thing ever."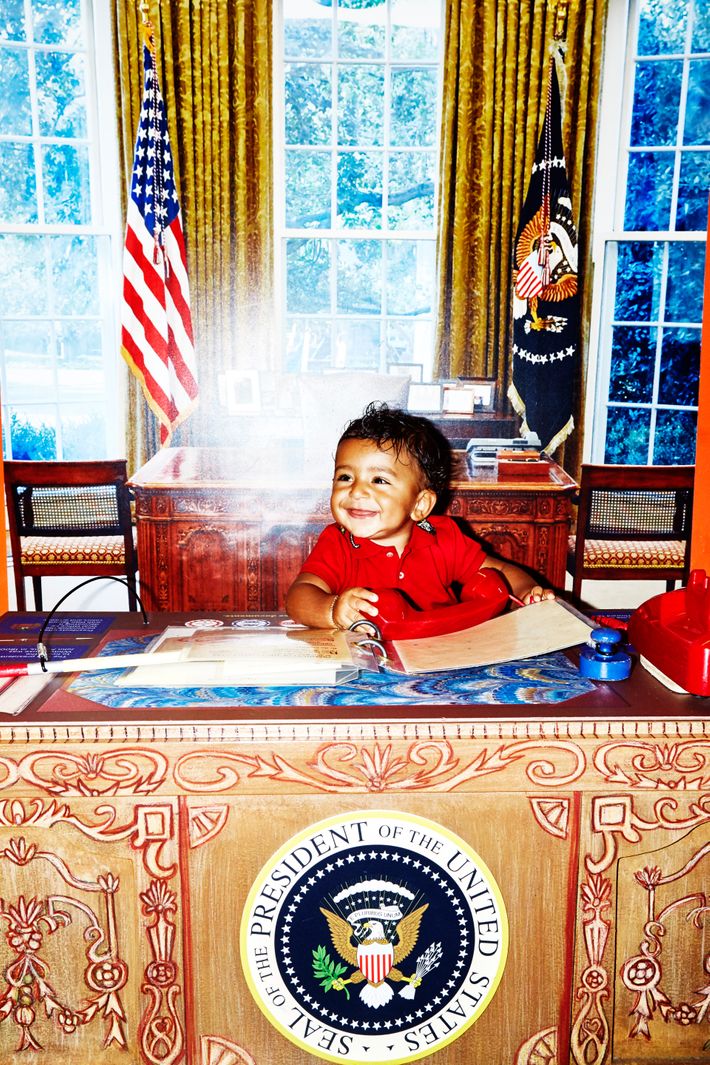 Truly, Asahd is a natural ham. Right now, for example, in the "America to Zanzibar: Muslim Cultures Near and Far" exhibit, he's atop a fake camel, dancing to "Wild Thoughts," his father's hit single featuring Rihanna and Bryson Tiller, which someone has playing on an iPhone. Asahd starts clapping his little hands and scooting back and forth. Then he really gets into it, teetering side to side, waving a single finger in the air, his signature move. "He came out of the womb holding his finger up," Tuck says, and I'm pretty sure she's not joking.
"Yes, boy! Yes, boy!" Khaled chants. And Asahd starts "Ah-ahhh-ahhing" along to Rihanna's "Wild, wild, wild."
"Get it on Instagram!" someone cries out. (It will be on Snapchat later.)
When Asahd was in the studio, he always gave his opinion; his father has said in interviews that Asahd used "the poops and the throw-ups" to signal approval of a track. I guess "Wild Thoughts" really is the Song of the Summer, because it soon becomes obvious that it's time for a diaper change. Everyone hustles back to the fourth floor. "You havin' fun, boy?" Khaled asks his son, who's on the changing blanket. "When it feels like work, you stop." I excuse myself as the baby's denim Gucci pants come off. No reporter should observe a celebrity with his privates out.
Diaper change completed, we all cram into the elevator to head back downstairs. Every day at 4:30, the museum dims the lights and turns the basement into a no-ID-required nightclub. It's all toddlers playing bongos and museum staff dancing in an exaggerated fashion to Kidz Bop versions of Bruno Mars. Asahd, who has a keen taste in music, is not feeling the *NSync and stands frozen — perhaps in overstimulation — in a corner by the DJ booth. One of the museum staffers notices and cues up a special track just for the celebribaby.
And, for the fifth time today, "Wild Thoughts" comes on. Asahd, in his second outfit of the day — head-to-toe Jordan gear, with custom gold sneakers — starts to dance. As if on cue, Khaled puts down his phone, rushes onto the dance floor, and lifts him up like he's Simba. They dance and dance, father and son, to Bryson Tiller rapping "I heard that pussy for the taking … / Fuck you 'til you're burned out / Cremation." It's beautiful. I only hope that everybody else sees the beauty and that no other parent wanted to watch their own child dance, as Asahd's entourage is completely blocking the view of the dance floor. I also hope no parent is concerned about the future effects of early-childhood exposure to lyrics about Rihanna having sex.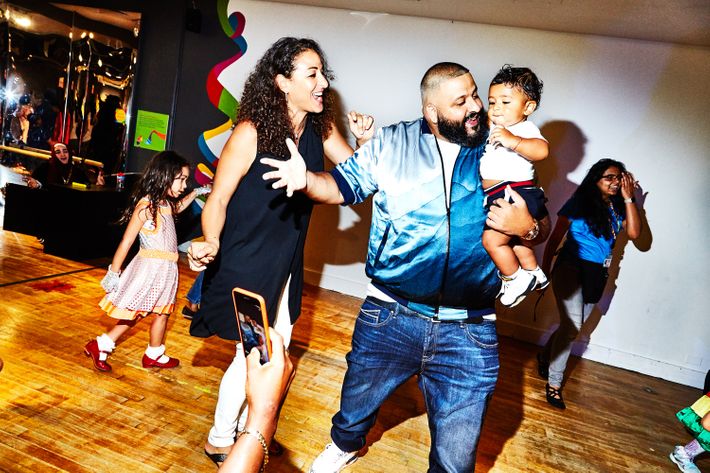 An hour or so later, the whole crew is touring the last floor of the museum, just as it's closing down for the day. The space is designed for small children to learn and grow and play with blocks and crawl on soft things. Asahd excels at all of it. Somewhere off the side, Khaled is consoling a random, crying 4-year-old with a pretty good motivational speech, borrowed from his Asahd tribute song, "I Love You So Much." "You're beautiful. You're smart. You're amazing. It's okay to want everything you want," he says. The baby continues to wail.
Asahd starts crawling toward his dad, recognizing his father's hype track. I take this opportunity to finally pick him up. I give him an airplane. He grabs one of my braids with a strong grip. He smells like soap and that infant smell and also Desitin and brand-new expensive clothes. He nuzzles my neck for a moment. He's a baby. That's why we love celebrity babies, because they are just babies.
Later, I ask Khaled about the decision to make his baby a social-media mogul. Why? At what cost?
"Asahd. He just did it." Khaled shrugs. I turn to his son, who responds with a sort of gurgle, drool, and stare.
*A version of this article appears in the September 4, 2017, issue of New York Magazine.