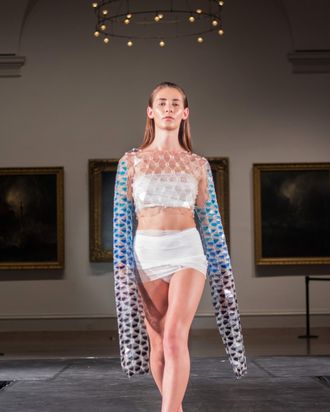 Juliet Evancho models Clio Sage.
Photo: Debbie Jean Lemont
Last year, three transgender students sued a Pennsylvania school district for forcing them to use bathrooms that corresponded with the gender they were assigned at birth. Among the plaintiffs was Juliet Evancho, sister of Jackie Evancho — one of few entertainers to perform at President Trump's inauguration.
At the time, many saw Jackie's choice to perform as an endorsement of Trump — someone who'd surrounded himself with anti-LGBTQ officials and who hadn't exactly embraced trans rights on the campaign trail. And it seemed to place her in opposition to Juliet, a longtime trans-rights advocate (who, by the way, eventually won her court case). The controversy catapulted both Evancho sisters into the national spotlight, landing them a TLC special in which they urged the president to rethink things.
They've since retreated from the public eye, but now that she has a platform, Juliet has no intention of giving it up. "I've always known there would be people out there who don't see the world as you do," she told the Cut at dapperQ's 4th annual New York Fashion Week show, R/evolution, Thursday night. "Living in this political climate just makes me want to fight harder."
She'll do that, she says, by continuing to work with Lambda Legal — but also through her budding career as a model.
"I'm not your average cut-mold model," she said. "Obviously everyone knows I'm transgender, so I see modeling as a way to show people that trans people are in every industry, they're doing their jobs — they're people, too."
Since Trump has taken office, Evancho says that mission has become more important than ever. So when designer Clio Sage slid into her Facebook DM's asking her to walk in the dapperQ show, she didn't hesitate. She was fitted into one of Sage's signature plexiglass pieces, and on Thursday she and dozens of queer models and activists were met with enthusiastic cheers.
The show was also a balm of sorts for Evancho, who's all too aware of the toll Trump's presidency is taking on the trans community. "The suicide rates in my part of the LGBTQ community are a lot higher, so that's really scary," she said. "I'm trying to surround myself with positive people and stay optimistic, even in the worst situations."