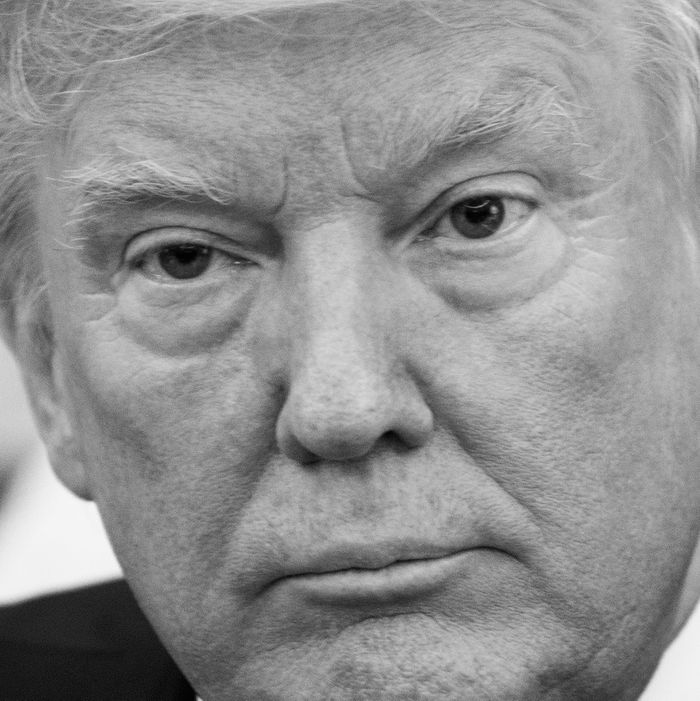 President Donald Trump.
Photo: Pool/Getty Images
President Trump has reiterated his view that "both sides" were to blame for the violence in Charlottesville last month. Speaking to reporters aboard Air Force One on Thursday, the president described a meeting he had with Republican senator Tim Scott of South Carolina the day before, in which Scott, the only black Republican in the Senate, reportedly confronted the president about his claim that there was "blame on both sides" in Charlottesville. Trump told reporters he and Scott "had a great talk," before doubling-down on his initial statement:
I think especially in light of the advent of antifa, if you look at what's going on there, you know, you have some pretty bad dudes on the other side also. And essentially that's what I said.
Ever confident, the president added: "Now because of what's happened since then, with antifa, you look at really what's happened since Charlottesville — a lot of people are saying — in fact, a lot of people have actually written, 'Gee, Trump might have point.' I said, 'You've got some very bad people on the other side, which is true.'"
Antifa, the "bad dudes on the other side" of white supremacists and neo-Nazis to whom Trump is referring, are members of the anti-fascist movement, which has been known to employ violent tactics against far-right groups. But as Senator Scott pointed out in his response to the president's remarks, there is no comparison between the two sides:
Antifa is bad and should be condemned, yes, but white supremacists have been killing and tormenting black Americans for centuries. There is no realistic comparison. Period.
After Trump's meeting with Scott on Wednesday, White House press secretary Sarah Huckabee Sanders said the two men had discussed the president's response to Charlottesville "pretty in depth." So in depth, it seems, the president didn't even realize he was wearing a navy jacket with black pants.