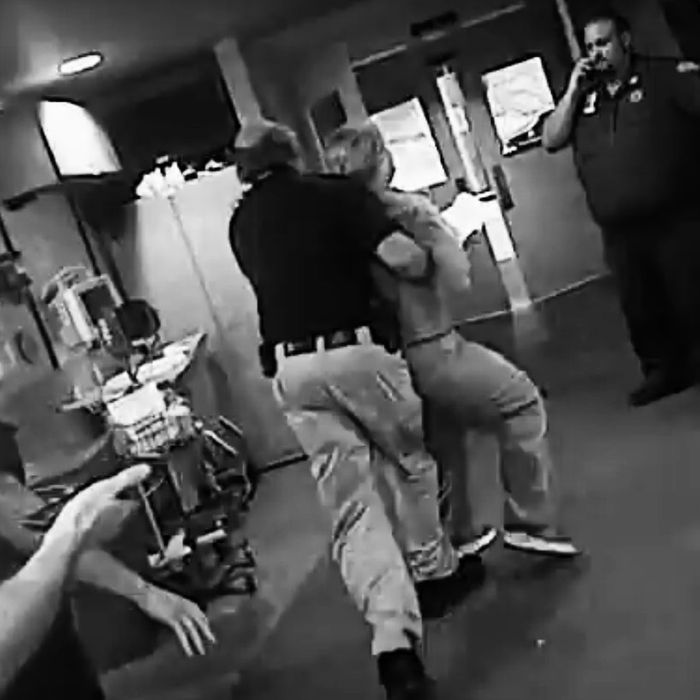 Nurse Alex Wubbels and Jeff Payne.
Photo: Courtesy of YouTube/Deseret News
The head nurse at the University of Utah Hospital's burn unit in Salt Lake City was arrested by a detective after she denied him access to an unconscious patient to draw blood. Detective Jeff Payne, who didn't have a warrant, grabbed her, took her out of the hospital building, and handcuffed her.
The altercation between Nurse Alex Wubbels and Payne began when Payne insisted he could take blood from an unconscious patient, Wubbels calmly told him no, and even got her supervisor on the phone to warn Payne, "you're making a huge mistake because you're threatening a nurse."
Payne had said "I either go away with blood in vials or body in tow," and accused her of interfering with an investigation. Constitutional law states that either the detective had to have a warrant, the patient had to be under arrest, or the patient had to give consent.
Payne eventually snapped and grabbed Wubbels, who screamed for help as she was taken outside the building. The harrowing footage shows her being forced into an unmarked car.
The incident, which took place on July 26, was captured on body cameras, and is now the subject of an internal investigation by the Salt Lake City police department. The footage was released by the local media.
Wubbels was not charged with a crime, but she has not ruled out taking legal action against the police, and held a news conference on Thursday saying as much.
"I just feel betrayed, I feel angry, I feel a lot of things," Wubbels said at the conference. "And I'm still confused."