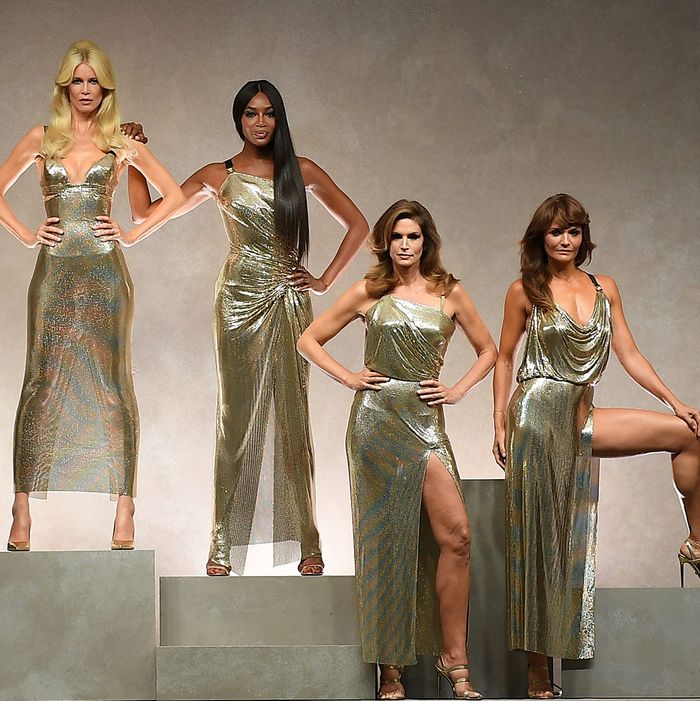 Carla Bruni, Claudia Schiffer, Naomi Campbell, Cindy Crawford, Helena Christensen.
Photo: Venturelli/WireImage,
The Versace spring 2018 show at Milan Fashion Week on Friday marked 20 years since the death of the house's founder, Gianni Versace, who was murdered in July 1997 on the steps of his Miami Mansion at the age of 50.
To pay homage, Donatella Versace, who took over for her brother as the house's chief designer, showed a collection of his greatest hits, inviting back supermodels Carla Bruni, Claudia Schiffer, Naomi Campbell, Cindy Crawford, and Helena Christensen to close the show as well.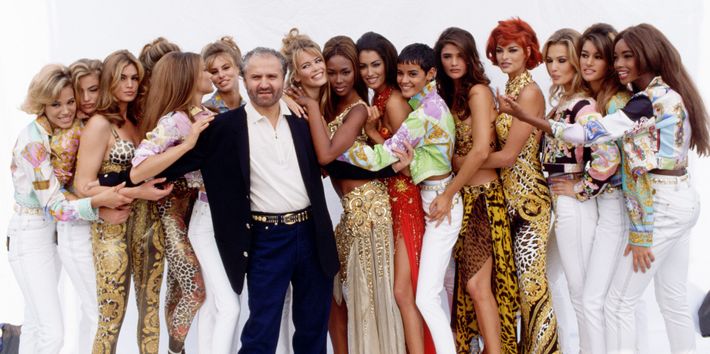 Fellow designers Pierpaolo Piccioli of Valentino, Alessandro Michele of Gucci, Anthony Vaccarello of Saint Laurent, and Andrew Bolton of the Met Costume Institute also attended to show their support. Amber Valetta sat front row. It was the most major fashion vigil there ever was.
As the lights went down and the show began, a recording of a sexy Italian woman meant to be Donatella Versace played as models took the runway:
This is a celebration of a genius. This is a celebration of an icon. This is a celebration of my brother. Imagine a world without his risk-taking, his innovative genius, and above all, his allegiance to women. A world without his tongue-in-cheek, in-your-face, jaw-dropping creations. I will zig when the world zags; a body is never just a body; sexiness. Your life is our life. You taught us that family is everything; that it goes way beyond blood. You taught us that only love is real, and we can still feel you when we close our eyes. Can you feel it? Our life is your life. It's not an easy journey away from anger, but it's a powerful place; it frees you. You helped invent the future. Because of you, we're not afraid. We look ahead because we are you. Thank you, Gianni. We love you. Gianni, this is for you, my brother.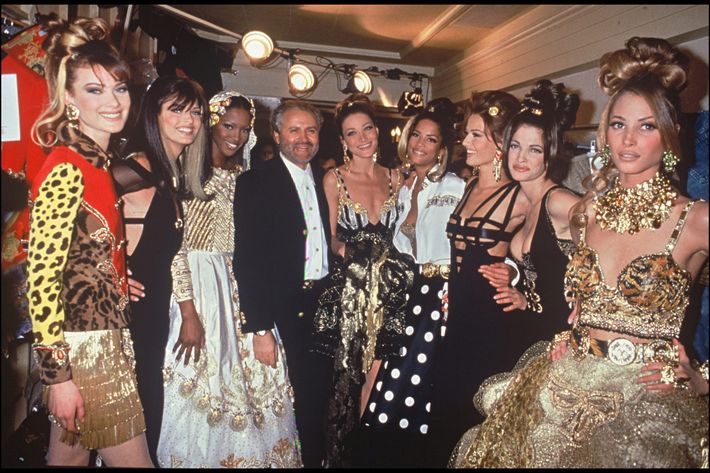 As Donatella wrote in the show notes, she felt it would be "impossible" to commemorate her brother's entire world in a single collection, so instead she divided to the show into themes based of his now-iconic prints: Baroque, butterflies, metal, mesh, Native American, Pop Art, pastels Trésors de la Mer, and more.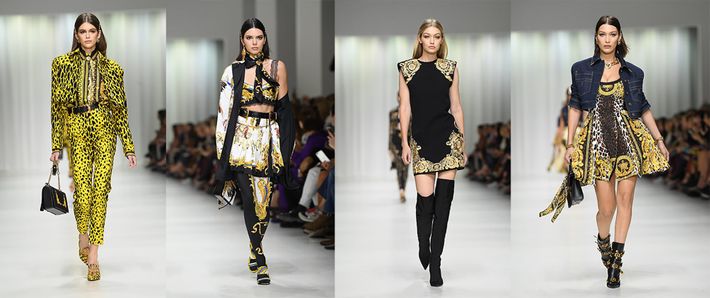 Kaia Gerber, the 16-year-old daughter of Cindy Crawford, fittingly opened the show in a bright-yellow leopard two-piece. She was followed by Gigi and Bella Hadid, Kendall Jenner, Anna Ewers, and just about every big-name model under the Italian sun. It was an endless parade of gaudy, loud '80s prints with flashy '90s colors — reminding us that pastel pink wasn't invented by Millennials. Plus, cropped jackets, short-shorts, and thong bathing suits were mixed-in for a complete throwback. For the Pop section, Gerber walked in a bodysuit covered in vintage Vogue magazines, while three other models flanked her in Andy Warhol–inspired prints.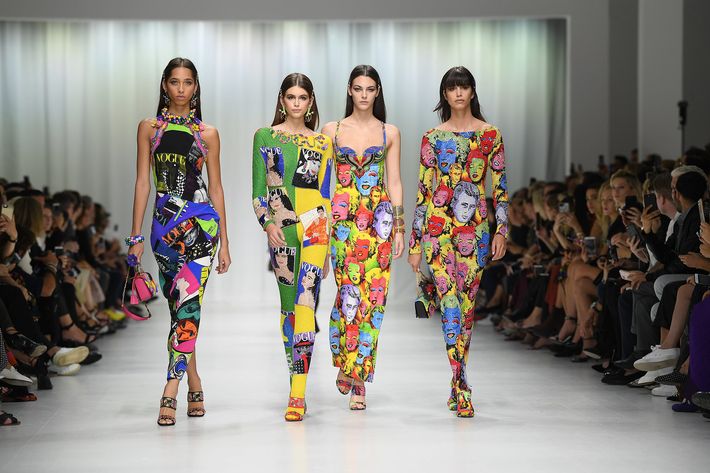 The accessories were no less opulent, with plenty of printed silk scarves, gold medallion charm chokers, and chain belts. Gigi Hadid and Binx Walton closed the show in thigh-high leather boots with bedazzled crosses on them. It was a somber closing of a chapter, as well as an optimistic look at the next generation of Versace.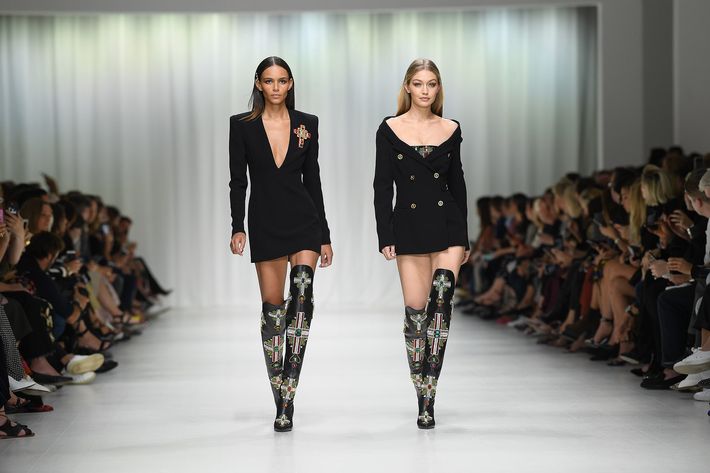 But wait! Just when you thought it was over, the lights came back on to reveal the five women who invented the word supermodel: Carla Bruni, Claudia Schiffer, Naomi Campbell, Cindy Crawford, and Helena Christensen. They stood with their hands on their hips, all wearing jaw-dropping, silver chain-mail dresses reminiscent of both Gianni and Donatella's collections. "Freedom," by George Michael played as they took the runway, arm-in-arm, for a final bow. The past and present collided, and fashion felt alive.
Viva Versace!